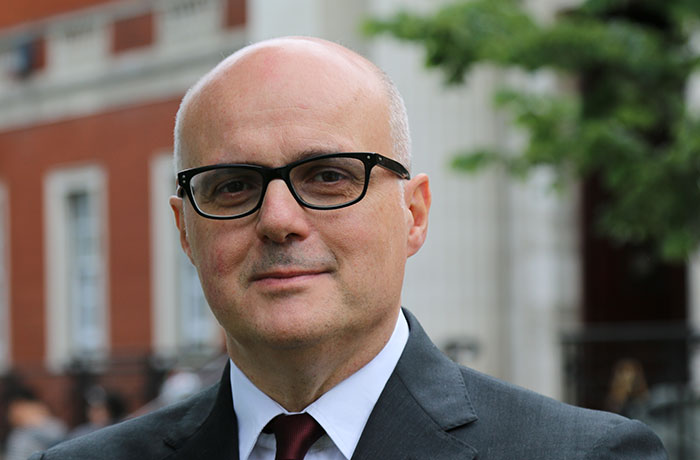 Alessandro Schiesaro: Creativity@Manchester
Creativity is a defining feature of universities – it cuts across all fields and disciplines. We must be creative in our research and stimulate creativity in our students. This has always been the case, but it is more important now than ever before, as the world we live in changes at an unprecedented pace. In the words of the Chief Economist of the Bank of England, Andrew Haldane: "Innovation and creativity are the wellspring of improvements in economies and societies".
A recent meeting with Sir Peter Bazalgette, who authored the independent review of the Creative Industries in 2017, provided an excellent opportunity to delve into some of these issues from a Manchester perspective.
Creative and Cultural Industries is the fastest growing sector of the UK economy, posting almost double the average growth of other UK sectors. It's a big field, which encompasses IT, software and computer services together with film, TV, radio and video; design, advertising and marketing; publishing; museums, galleries and libraries as well as the performing and visual arts.
As Sir Peter points out there is a vital relationship between a strong cultural environment and the growth of creative industries. As he puts it, because 'strong local culture provides skills, talent and unique content for the creative industries. This is imperative in order to grow, attract and retain creative talent'. Or, in other words, you need the right ecosystem to take advantage of the opportunities that Creative Industries offer.
Because of its unique cultural offering, Manchester is precisely the right ecosystem. Truly a "creative powerhouse", Manchester is one of the key cities across the UK and Europe that are driving growth, entrepreneurship and innovation; it boasts the highest concentration of creative industries businesses outside of London; and is also one of the cities to have generated the highest number of creative industry jobs in recent years. And our University is unique in the higher education landscape, too, because as well as being one of the top research universities in the world it is also home to major cultural institutions, which are key to enhancing our teaching, research and social responsibility agenda.
Our University's commitment to creativity, and specifically, to the creative and cultural industries sector, is testified by an ambitious funding programme, Creative Manchester, which has come on stream at the beginning of this academic year and was officially launched by the President and Vice-Chancellor on 2 October 2018.
Creative Manchester builds upon the University's historic civic mission. Our stakeholders are both internal and external: staff and students, but also alumni, the local community, policy makers in the region and beyond, international partners, the creative sector at large. It's a project that looks at the future not with apprehension but with confidence and ambition, because we aim to unlock potential in teaching and research across all discipline boundaries, promote social inclusion and diversity, and encourage investment and accelerate economic growth.
A lot has already happened since October. Let me mention one example of how this virtuous circle actually works. The University, with our colleague Jerome de Groot, successfully led the bid for Manchester UNESCO City of Literature, which will now offer new opportunities to our students in the classroom, new connections with the local communities, and new job opportunities in the publishing sector.
Or take the University's key role in the Peterloo anniversary thanks to its strong presence in the field of Public History. In addition to Michael Wood, we have recently welcomed David Olusoga also as Professor of Public History – they will form a unique team in this area. In the meantime, Manchester Histories continues to set the standard for sustained interaction with the local communities.
But the most exciting part is still to come. Creativity is a thread that runs throughout Manchester scholars and students alike. We are currently in dialogue with colleagues across all three of the University's Faculties, to explore interdisciplinary projects, centred around creativity, which support our shared core goals of world-class research, outstanding learning and student experience, and social responsibility. We are also meeting with partners in Melbourne and Toronto, to promote interdisciplinary projects – the quantity and quality of what is going on is truly staggering. We have a fantastic opportunity to promote our University as the most innovative university in the UK, and, together, to shape an exciting future.
This is very much a collaborative enterprise, and so I would be very interested to hear ideas about how we can progress, and about existing projects in the University which we could explore further together. Please get in touch!
Alessandro Schiesaro – Head of the School of Arts, Languages and Cultures