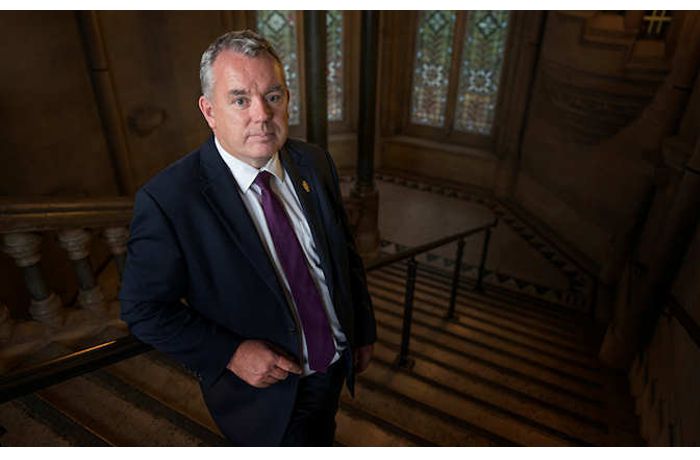 Patrick Hackett: Slowly emerging from upheaval – an opportunity to do things differently
Slowly emerging from the upheaval of the pandemic, I've been thinking about the potential opportunity to apply what we have learned through that challenging period to reshaping Professional Services (PS) as we move forward.
Over the past 18 months there have been numerous health and wellbeing challenges for us to navigate, ever changing national guidance and significantly increased workloads. Your ability to react, adapt and change overnight has been remarkable – no single thanks are enough.
And I know that those challenges are certainly ongoing and are still absorbing time and energy which can't be underestimated in PS and across our academic communities. I absolutely appreciate that many of you are tired and probably feel that the last thing you need is another burden, another exhortation to change, particularly as we prepare for a new academic year with bulging intakes across all our faculties and schools.
Yet, throughout that period of unrelenting challenge and achievement, we have all been encouraged, sometimes forced, into adopting new habits and finding new solutions. And as I reflect on those work experiences, there are few questions that spring to mind:
Have we moved on or do we move back?
Which recently developed habits have made our lives better or improved how we deliver for the University?
What habits did we have prior to March 2020 which we do not want to fall back into?
How can we make the delivery of our work more sustainable, whether workload and wellbeing, environmental, financial, or even our ability to adapt in a rapidly changing world?
The hybrid working pilot we are now undertaking across PS is a significant part of where we go next. It is incredible to think how much has changed since March 2020 and the opportunities that a hybrid approach offers.
But as we start to slowly recover and develop our 'new normal', there are a number of other simple things that should be at the front of our minds, simple behaviours that we can change and make how we all work, better.
New norms, habits and standards?
We all know that growing workload is a genuine concern. So, are there changes that we can all make to free up time and reduce that load?
How we work together, what we work on, even challenging why we do some of the things we do – are all areas for us to consider. I'm starting to give serious thought to three things that I aim to effect: Reducing our documentation; reducing the number of meetings; and considering what we stop doing. I'm sure you'll have areas that matter to you?
A decisive move to shorter documentation?
Many people spend large amounts of time creating reports which typically run to a dozen pages or more – in some cases, many times more. Circulated to an audience to read, generally well in advance of a meeting due to their length, they are then formally debated within a Committee, sometimes going through multiple cycles of editorial. Burden upon burden.
A significant part of 'doing things differently', can be a decisive move to shorter documentation. Getting a main report to a maximum of 5 pages is not easy.  A shorter, more precise report is not dumbing down, it's often more challenging for the author. But shorter, sharper reports will free up time, head space, shorten timescales for circulation and should help us with crisper decision making.
Addressing the meeting 'mountain'?
Repeated feedback tells us we have too many meetings. They are too long, duplicative, or generally ineffective uses of time. We can address this meeting 'mountain'.
Of course, some meetings are core to how we govern our University, but those committees are readily identifiable. Others we will want to keep, hold on to more tightly, as we've missed those face to face creative interactions. But I do want us collectively to identify ineffective or repetitive meetings and take action. You all know the symptoms. If you think a proposal to remove (or otherwise renovate) a meeting needs broader support, please make a b-line for your local leadership teams, key academic stakeholders and PSLT member.
What about stopping activities?
The world has changed. Expectations have changed. We have changed. It therefore makes little sense that work should remain the same and we just keep doing the tasks that we've always done. We should really challenge whether certain activities can legitimately stop?
I know this is not easy and needs thoughtful consideration, but we do need a root and branch look at this as part of our reset. These are three things at the top of my list, but they may not be right for your area. Email protocols, the use of meeting-light periods, delegated authorities, the blending of virtual and face to face, you will have ideas on all of these topics and more.
Reducing our consumption?
For those with budget and spending responsibility, every year at around this time, we often receive speculative emails from suppliers wondering about that year end 'spare budget' or looking to understand our spending plans for the 12 months ahead.
Rather than accept the principle that money is there to be spent or that University funds are the property of the budget owner, can we move on from the 'use it or lose it' idea? We are often doing the right things in terms of:
Reducing our consumption
Treading more lightly on the earth
Improving our value for money
Firmly challenging ourselves on every deployment of University funds
But let's be honest, there is more that we can all do. Having all experienced 18 months of a much 'lower consumption' working pattern, this is one of the areas where we can permanently do things differently. In total we spend some £300m in total non-pay at the University level.  Working together, I am sure we can sensibly start to do something about that.
This is absolutely not about slashing the support for our teaching, student experience or research or impacting our core goals, but doing simple things better, more effectively. Maybe it is best described as challenging that phrase 'well we've always done it this way'. Imagine the budget that you spend and the costs that you incur were your own money – would we approach it in the same way?
I certainly don't have all the answers. With your insights and experiences, your suggestions, and your commitment, we can make these simple changes happen and stick. I know that from my perspective I'm really conscious that:
I've massively reduced the printing that I do and I intend to make that a permanent change. It makes me think, do I need that copier and everything that goes with it? Can I take my paper consumption to zero?
Do I need paper external publications, can't we publish fully online? And do I need all my subscriptions? Is that really best value any longer?
I'm thinking about the space that we occupy, and its usage. Do we have opportunities to vacate space? How else might hybrid working help reduce the money we spend?
We don't need catering in meetings as we come back
Having taken a third off our 'normal' travel consumption at the University level can we go further if we think differently? For example, some conferences and events work perfectly well online, while others merit face to face. Being selective and flexible has to be the way forward?
While we can't get rid of everything, there will be areas where reducing the amount or frequency of what we use will be a massive help.
Making this happen locally – a call to action
We all understand the general idea and have discussed it often. There is now the chance to take action on specifics.
I think we can encourage the creation of a lower consumption service. From so many angles, this is just the right thing to do. Teams that really make a difference deserve recognition and I'll make sure that happens.
We can create new norms, new standards, new habits – whether shorter, more punchy documentation; getting rid of unnecessary meetings; or stopping tasks that are no longer fit for purpose. Doing things like this may well help us recover from the ongoing challenges faster, create more time, more space?
I know your ideas will be better, more important, more likely to make a difference than mine, and your local commitment will be where the change happens.
Nothing is easy at the moment and I appreciate that even creating the headspace to think about these things is tough. So, I am asking three things of you:
Please take these discussions into your teams. Shape them, drive them, make them real.
Please keep them on your agenda. They are important and should be kept firmly within our sights.
And finally, please keep the lines of communication open. I really would like to hear about your successes and the great ideas you come up with.