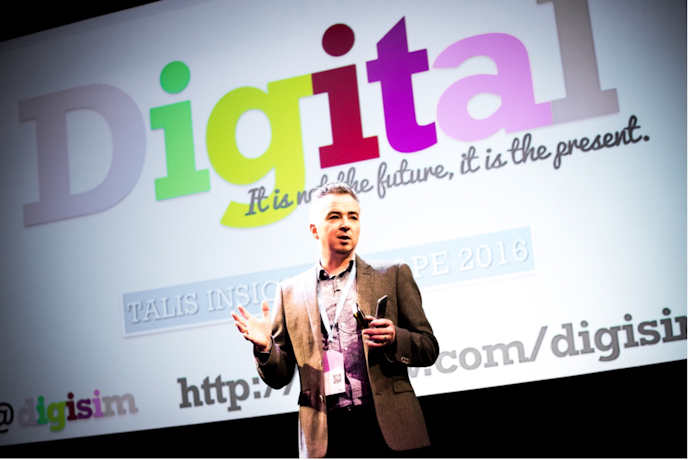 Simon Thomson – The future of teaching and learning
Flexible Learning is about providing an ambitious and forward-looking strategic vision for the future of teaching and learning at The University of Manchester. Despite the darkness of the pandemic, I do often talk about the "slivers of silver" that we might glean from the educational experiences we had during that time, whilst also recognising which aspects of in-person teaching and learning we really missed.
The pandemic heavily influenced my own work in developing approaches to hybrid learning and what emerged from that was a framework to support the development of mixed-modal learning. The opportunity to join Manchester as Director of Flexible Learning was just too good to pass up and so three months into my new role it is perhaps a good opportunity to reflect on those three months and to offer up a viewpoint on the next few.
Almost every university in the UK (and across the world) will be having conversations about what their future teaching and learning approaches look like following the pandemic. The initial knee-jerk reaction of getting back on to campus for everything is now giving way to a more reasoned view of how we balance high value on-campus experiences with the flexibility afforded by online. The recently published results of the Jisc digital experience insights survey show that the majority of students want blended experiences. Add to this the political momentum for change through the Lifelong Loan Entitlement and it is absolutely the time for universities to be challenging norms and seeking opportunities to increase access to higher education and enhance learning. It is clear to me that Manchester is ahead of the game by setting out a bold vision for the future and strategically supporting that vision through Flexible Learning.
How we'll increase flexibility
Over the past year, the Flexible Learning team has been developing a strategy to achieve that vision for the future with students and colleagues. You'll be able to read the full strategy very soon, but in the meantime, here are the key areas where we will be increasing flexibility:
Pace
Exploring how we can give learners greater control over how much, at what level, and what kind of intensity they study – as well as allowing them to stage learning throughout their lifetime.
Place
Giving students greater choice over the physical and virtual spaces in which they learn – remote, on campus, online, hybrid and transnational – by drawing on our experiences and expertise to maximise the potential of each teaching mode.
Pathway
We already have some optionality for students, but what about creating new pathways beyond our regular on campus programmes – micro credentials, stackable qualifications, lifelong learning?
Practice
To bring this vision to life, we will need to adapt and make changes to our practices. We'll allow our colleagues to play to their strengths and balance the demands of research and teaching. We will achieve this through reviewing our existing policies and procedures, as well as giving teaching staff more support in designing and delivering teaching and new ways of recognising excellent teaching practice.
What's next for Flexible Learning
While I can't wait to share our full Flexible Learning strategy with you in early November, there are a few other exciting projects I want to highlight. We'll soon have a physical location where students and colleagues can drop by and try out new technologies, engage in workshops and meet with the programme team. Initially this will be Prospect House, but eventually Booth Street East, so do look out for announcements about those spaces.
For those colleagues and students who want to try out new ideas and really push the boundaries of what might be possible, we will be announcing calls for Flexible Learning pilots. These funded projects will help us to identify what is (and isn't) possible, as well as giving us insights into how we need to adapt our processes, policies and practices to make the Flexible Learning vision a reality.
One aspect of my role that I am particularly excited about is working with students and colleagues from across the institution and partners beyond the University to understand how we most effectively embed flexible learning into our day-to-day activities. Over the coming months we will be starting to map out ideas for a long-term vision for flexible learning, one that exists beyond the lifespan of the programme, and establishes Manchester as a sector leader in blended and flexible learning.
Will it be easy? Nope! Will it be worth it? Absolutely!
Professor Simon Thomson
Director of Flexible Learning