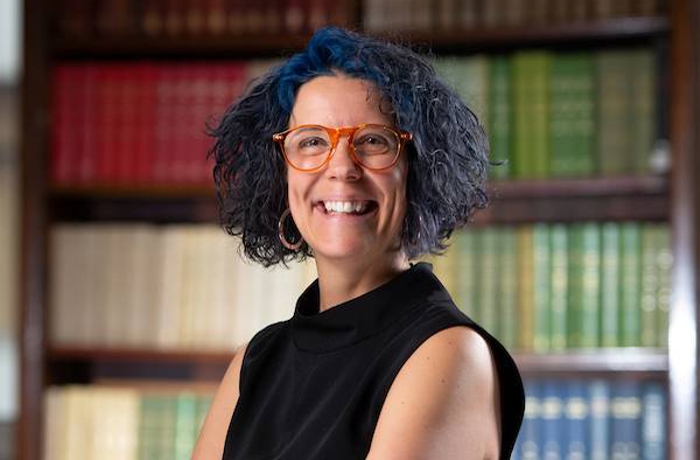 Miriam Firth: Why do we need Flexible Assessment?
"Why do we need Flexible Assessment?" 
Well, we don't. But this is a question I've received more than a few times since I started my role as Academic Lead for Assessment within our Flexible Learning Programme – and it's a valid one. One that I think is worth exploring, when defining our vision for the future of assessment.  
So, why don't we 'need' flexible assessment? Well firstly, flexibility within assessment already exists at the University of Manchester. We're not starting with a blank page, and this isn't something we need to suddenly and radically change within our assessment design and practice.  
A number of colleagues are already spearheading projects exploring different elements of flexible assessment practice across UoM. From Jenni Rose's peer-to-peer assessment project (which empowers students to write their own feedback, using comparative judgement and making inner feedback explicit) to John Owen (who is using blogs with public comments, and leads school wide student centred assessment practices). There's Therese Lawlor-Wright (who flexes the context of exam assessments) and Rachel Hayes and Kurt Wilson's work (designing and developing new software for assessment). And it's not just our colleagues leading the way either – postgrad student Krishna has recently led national discussions on AI in Assessment with JISC.  
Assessment that offers flexibility and student choice is already visible across the University.  
On a wider scale, post-pandemic, our students are more accustomed to a variety of learning contexts and communication methods. Society and industry alike are advancing in their approaches to tasks and knowledge. 
In line with this, flexibility in assessment for our learners needs to transition from being an 'add on' or a 'nice to have', to a core consideration for assessment design. So, while we do not 'need' flexible assessment, what we do need is to build in processes to address the question of flexibility in assessment as standard – particularly when designing new, or amending existing, assessments. 
Who is working on Assessment at the University of Manchester?  
My immediate response? A swathe of brilliant colleagues!  
We have a number of groups working to support more flexible assessment for staff and students across UoM, to ensure our approach is joined up and comprehensive. From the Institute for Teaching and Learning, to the Assessment for the Future Group, to the FSE Teaching Academy , to the Manchester Institute of Education – plus reading groups in departments and programme teams. We have a critical mass of colleagues actively working to improve and enhance assessment for our students.  
Within Flexible Learning, Assessment is one of our six core workstreams, and we're continuously collaborating with all of the groups above, with one shared goal: to make assessment fit for the needs of our ever-changing and diverse cohort of learners.  
Within Flexible Learning, we're leading a range of projects and pilots, which seek to identify opportunities for increased flexibility for formative (continuous) and summative (periodic) assessment for flexible pathways – however, the outputs from our work will also be of use for on campus programmes and assessments.  
 As Sian Yeowell in our Education Development team notes: "Good assessment, is good assessment."  
 I couldn't agree more.  
So, how can we make this a reality? 
As part of the Flexible Learning Programme's Assessment workstream, we've been working with the University of York, Imperial College London and UCL to explore the feasibility and practicality of optionality in assessment – in other words, student choice. As part of this we've run surveys, focus groups and interviews with staff and students from all four institutions, and the feedback has been fascinating.  
One theme which came out time and time again was: "This sounds great in theory – but what about the reality?" 
We'll be sharing the full results of all our research in November at an online event hosted by QAA, where we'll unpack this question and more. But, luckily we're already a few steps ahead. 
Not only are colleagues across the University already showcasing flexibility within their teaching and assessment practices, but we're also making strides to ensure that all Manchester colleagues are singing from the same hymn sheet when it comes to assessment – particularly flexible assessment.  
Within the next month, we'll be sharing the first iteration of a new Assessment Toolkit: a one-stop shop for all things assessment, which will develop and grow over time, with help from you – its users. The Assessment Toolkit has been designed with staff and students, for staff and students. It aims to bring together all the resources that both colleagues and students use regarding assessment – in a digital space which is interactive, easy to navigate, and a single source of truth.  
Ensuring that everyone is on the same page regarding flexibility in assessment is key to a successful shift in culture and mindset, and we hope that the Assessment Toolkit will be a first step in supporting with this. Look out for Assessment Toolkit Champions across the University, who will be happy to discuss further how this can work for you! 
What does the future look like for flexible assessment? 
To meet the goals in Our future: vision and strategic plan, we need to offer assessment that meets the needs and expectations of lifelong learners in flexible learning contexts. This means our assessment needs to be adaptable and pertinent to traditional and non-traditional learners.  
Thus, the future of flexible assessment is this: embracing the cactus of ChatGPT, designing assessment for scale and context flex, whilst still enabling us to verify skills and knowledge developed. And if none of this sounds feasible for now, look out for the Assessment Toolkit – it is being built just for you. 
Dr Miriam Firth,  Academic Lead for Assessment within the Flexible Learning Programme