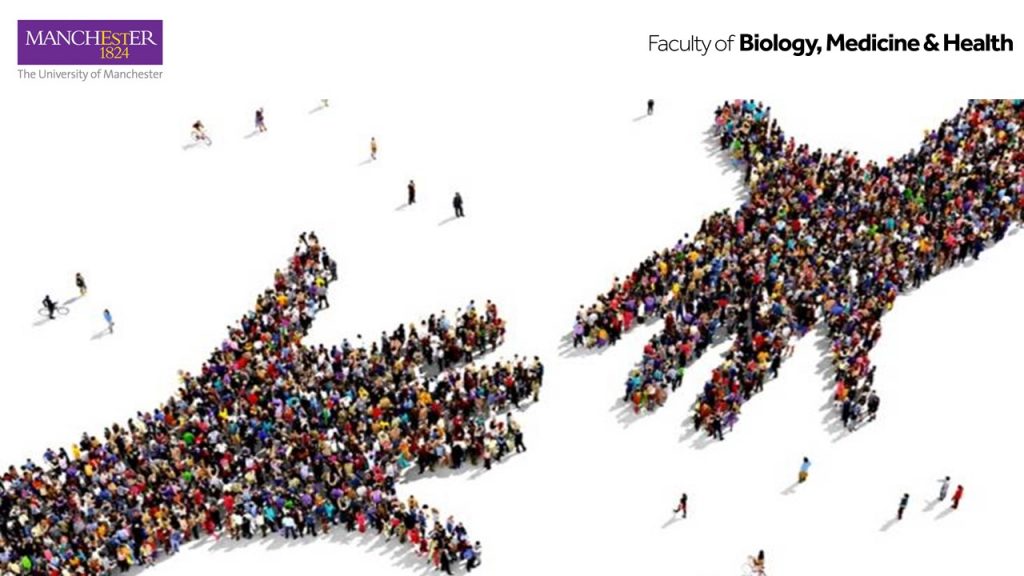 Involving Communities: Celebrating and Rewarding
This blog has been created with related resources to share how an annual celebration event evolved to become central to how we support patients/public and staff/students in being fully involved in our research and teaching.
Patient and Public Involvement and Engagement (PPIE) is the term used to describe the different ways in which members of the public can be involved or engaged in research and teaching.
Public engagement refers to the ways in which the activities and benefits of higher education and research are shared with the public, whereas involvement is an active partnership between research/teaching staff with patients or members of the public.
Patients/public involved in this way are commonly referred to as Public Contributors. 
Introduction
PPIE is integral to the Faculty of Biology, Medicine and Health because so much of what we do has the potential to affect the lives of millions of people both in our local communities and further afield. 
When did it start?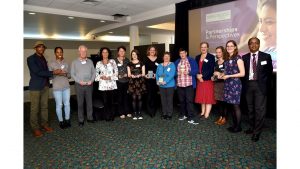 In 2015 we decided to hold a celebration event to thank our community of patients/public, staff and students who ensure that our research and teaching is relevant, meaningful and of a high standard. 
Little did we know at the time, that this event would become the foundation for so many ways that we involve and engage patients and the public in our research/teaching, including;
how we inform the Faculty's strategic framework
What was the aim of the event?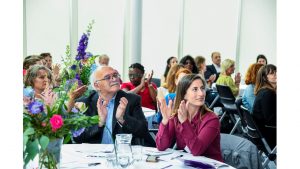 Our aim to start with was celebratory – bringing everyone together who typically wouldn't meet up in such a way, to say thank you and celebrate their PPIE achievements.
Secondly, we wanted to provide a place where our PPIE community could network with each other.
Due to the success of the event, we introduced workshops/activities where we could collate feedback/co-produce our projects, strategy, resources. 
How did we make the event inclusive?
We felt it was important that we make the event as inclusive as possible – ensuring no barriers to attending especially as our audience is a mix of staff, students and Public Contributors. Including:
co-producing the event with a representative from our attendees e.g. staff, student and Public Contributor
choosing our venue based on location and accessibility
booking additional 'quiet' space for those wanting to sit out  parts of the programme
providing information ahead of the event to all attendees including key words/acronyms used
providing briefing notes to all speakers with detailed information, including using lay language
ensuring our programme was diverse and included a range of speakers/activities
evaluating previous events and 'tweaking' each subsequent event to ensure it met our attendees requirements
asking attendees to tell us their accessibility and access requirements ahead of the event
ensuring our invites were open to everyone involved with PPIE in the Faculty (staff, students and Public Contributors) and promoting through different avenues e.g. twitter, personal invites, networks etc.
reimbursing travel, carer, child minding costs etc.
View our top tips for PPIE on how to embed strategy within celebratory events and to plan inclusive online celebration events.
How do we plan the event?
We co-produce the event with Public Contributors and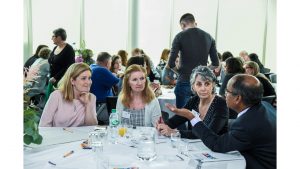 staff via a planning committee. The initial ideas (themes, speakers etc.) are suggested by members of the Faculty's PPIE Forum or from our attendees at previous events. The planning group then:
decides upon a theme
aims to be creative in their approach to ensure that we include a range of activities for all interests. This has included; informing our strategic framework, tai chi, singing and wellbeing activities taster sessions, featuring an ideas board to collate possible PPIE ideas, wellbeing activities, 'what colour is your pain' activity, PPIE web where we showcased whether people were involved in research or teaching
evaluates previous events and 'tweaks' each subsequent event to ensure it meets its purpose and our attendees requirements
keeps it relevant and aim to choose our theme/speakers based on current events
The event
At our first event in 2015, we listened to each other's perspectives on engagement and involvement with our common goal that our research and teaching is relevant, meaningful and of a high standard. 
As more people with new ideas became involved, there was an appetite to include an awards ceremony to recognise the commitment of our Public Contributors, staff and students to our PPIE.
We soon realized that we could achieve more as a collective – as the event included people with expertise from all areas across the Faculty. So we introduced a 'clinic' where researchers could access everybody's expertise to help shape their research and teaching.  This had really positive results, find out more about our clinic here
We featured mini-workshops where attendees provided their input on our projects and also how to improve our PPIE infrastructure. This included redesigning our webpages, creating resources and contributing to the Faculty's strategic framework.  
We also found it was a good opportunity to launch some of our infrastructure projects, especially as many attendees had been involved in co-creating them. For example our website, PPIE toolkit, PPIE short film 'Working with our Communities' were all launched at our events.
PPIE awards
In 2017 we introduced our 'Outstanding contribution to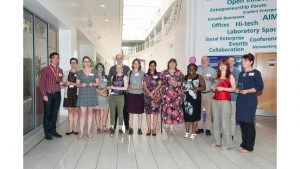 PPIE' awards which recognise the inspirational and outstanding commitment to PPIE that has made a positive difference. The awards which are open to staff, students and Public Contributors, grew to include specific categories for groups, newcomers (has only been doing PPIE for up to two years) and one off events/projects.
The awards are also a great way for our stakeholders to find out about the amazing PPIE taking place across the Faculty. Find out more about our award winners here
Adapting to our 'new normal': 2020-onwards
Along with everyone else, we were required to adapt to a 'new normal' with living in a more virtual world due to the coronavirus pandemic. This presented real challenges as one of the best things about the event was meeting up with friends, networking and celebrating together – the collective sense of teamwork.
Again through collaboration, creativity and co-production we were able to host an online event with the theme 'PPIE in a Socially Distanced World'. As this was our first online event, including the first for many of our Public Contributors, we hosted a Zoom training session which featured information on how to use Zoom and what to expect when joining an online event/meeting. Find out more about our training session here and access our hints and tips guide for online engagement which was co-produced with our attendees.
Find out more about our individual events here
For more information about our PPIE events, training and funding opportunities sign up to the monthly newsletter, visit our website and blog, follow @FBMH_SR on Twitter or email srbmh@manchester.ac.uk.