UK International Emergency Trauma Register – Members' Meeting, 14 May 2011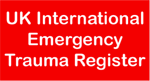 The UK International Emergency Trauma Register (led by Professor Tony Redmond, HCRI Deputy Director) was formally launched at a meeting at the University Hospital of South Manchester NHS Foundation Trust on Saturday 14th May 2011.
Speakers from a range of backgrounds described their experiences of deployment to conflicts and disasters overseas. In particular international medical NGOs (International Medical Corps (IMC), Medical Emergency Relief International (Merlin), Register of Engineers for Disaster Relief (Redr)) gave their support for the register and confirmed their involvement in training its members.
Members of the register can review the presentations by logging into the members' only area.
For more information and to register, please visit www.uk-med.org. Any queries please email enquiries@uk-med.org