Dr Amy Hughes, Prof Mukesh Kapila and Prof Tony Redmond on the fight against Ebola
In November 2014, Professor Mukesh Kapila was one of the panellists in HCRI's Understanding Ebola Event [more information about the event including recording on the HCRI website] alongside Vickie Hawkins from MSF, Anne Kelly from the University of Exeter and Prof Tony Redmond.
Since then, Prof Kapila has visited Sierra Leone, Prof Redmond has been interviewed by the Guardian and another HCRI academic, Dr Amy Hughes has been volunteering in Sierra Leone.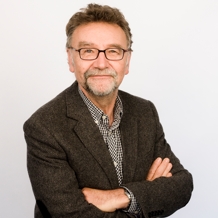 Prof Redmond, who teaches on HCRI's MA and BSc Courses, spoke about his work with UK-Med and what motivated him to found it.
[Interview with Prof Redmond on The Guardian]
As a country we are fortunate enough to be able to respond to emergencies, says Redmond. We are part of the world and it's important that we help people in distress. There are aspects of life that rise above everything else.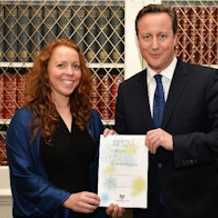 Dr Amy Hughes has been volunteering in Sierra Leone since last autumn. Before deploying, she wrote about her motivations.
[Article by Dr Hughes on HCRI website]
I am 34 and an emergency medical clinician. I work part-time at Derriford Hospital in Plymouth and as a clinical lecturer in emergency response at the Humanitarian and Conflict Response Institute at the University of Manchester. I've been involved with humanitarian work for the past six years. I love the challenge it presents and the privilege of engaging with different communities.
This month, Dr Hughes has been awarded the 200th Point of Light Award for her volunteer work.
[Article about the award on the University of Manchester website]
Prime Minister David Cameron said: Amy's selfless commitment to ensuring medics in Sierra Leone are trained to provide the best possible care, while keeping themselves as safe as possible, is a credit to the NHS and Britain as a whole. I am proud to name her the UK's 200th Point of Light.
Dr Hughes teaches on a variety of HCRI courses, including the intercalated BSc in Global Health.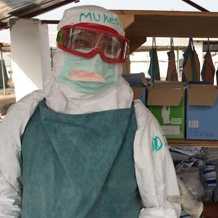 Prof Mukesh Kapila has also visited Sierra Leone to assess how the fight against the virus was progressing
[Article about Prof Kapila's visit on the University of Manchester website]
He was travelling with the International Medical Corps (IMC), a leading humanitarian health organisation, and one of the earliest responders to the crisis. Touring the IMC Ebola Treatment Centres deep in the countryside of Sierra Leone and Liberia, he said, "Panic, ignorance, and prejudice is what this virus survives on. To control it, we must be scientifically informed, and coolly calculating."
Prof Kapila also blogged about the trip.
[Prof Kapila's blog, well worth reading beyond this post]
The director of the IMC treatment centre in Bong, Liberia walks me to the nearby Ebola graveyard. Recently turned mounds stretch out under tall trees, each with a rough wooden cross. One of them reads: "In Loving Memory of Mammie Juah, Sunrise 1982, Sunset Nov 20, 2014."

Sensing my melancholy she takes me next to the Survivors Wall. "It's growing", she says proudly, indicating the collage of multicoloured handprints – each one from a winner in the Ebola lottery.
He also tweeted extensively, providing many interesting snapshots into the lives of the volunteers who are fighting Ebola.