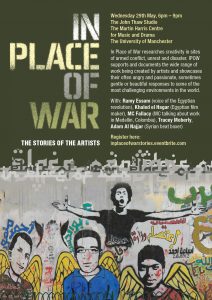 In Place of War – the stories of the artists
Wednesday 29th May – 6pm – 9pm
Free entry, registration essential
The John Thaw Studio, The Martin Harris Centre for Music and Drama, The University of Manchester
In Place of War researches creativity in sites of armed conflict, unrest and disaster. IPOW supports and documents the wide range of work being created by artists and showcases their often angry and passionate, sometimes gentle or beautiful responses to some of the most challenging environments in the world.
With: Ramy Essam (voice of the Egyptian revolution), Khaled el Hagar (Egyptian film maker), MC Fallacy (MC talking about work in Medellin, Colombia with the hip hop communities in the barrios), Tracey Moberly (interdisciplinary artist), Adam Al Najjar (Syrian beat boxer)
Inspired by their work, In Place of War have created an online platform where artists can share their responses to war, unrest and conflict, and view and learn from the work of others; from street artists in Libya, to theatre makers in DR Congo, to musicians in Sierra Leone, to dance groups in Sri Lanka.
The In Place of War presentation features five artists from conflict zones both present and virtually, in addition to a showcase of the In Place of War online platform.
The evening presents different artist's work reflecting both the complexities of war and the different impacts it can have on the artist.
6pm – Refreshments
6:30pm – Presentation by James Thompson (HCRI Executive Director) and artists
7:15pm – Joined by international artists from Egypt
8pm – Showcase of the platform
9pm – Close
www.inplaceofwar.net
For more information contact Ruth Daniel: Ruth.Daniel@manchester.ac.uk or 07739215618