The International Festival of Public Health 2015
Want to know more about studying at HCRI? Hear what the students have to say and get an idea of the kinds of independent research projects students undertake:
The International Festival of Public Health 2015 (http://www.festivalofpublichealth.co.uk/) took place on Thursday 2 July at the University of Manchester and it was great to see so many HCRI students past and present contributing to the event with a huge range of topics relating to global health and development. First of all I would like to thank all of the organisers and volunteers of the Festival for delivering such an informative and inspiring event and for providing students and early career researchers a forum to present their work alongside the range of experienced academics and practitioners. A great day!
Chrissy Alcock and Karen Livingstone, from HCRI partners UKMed, gave a Keynote Lecture on the Ebola response in Sierra Leone to a packed audience. The partnership with UK-Med has inspired many of our students to undertake research on humanitarian disasters and responses, including topics such as the Ebola crisis, the role of civil-military partnerships in the humanitarian response after the Chinese earthquake, and Disaster Risk Reduction and Education in the Philippines.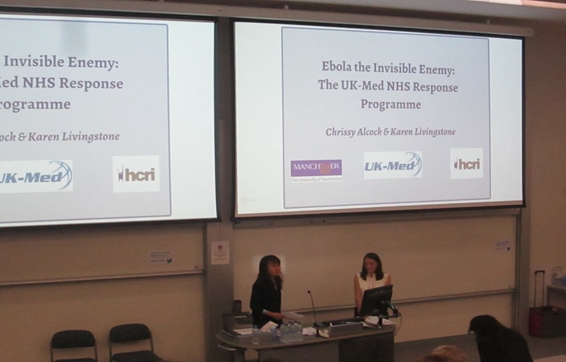 MA students from HCRI who presented their work included Megan Corder talking about Human Rights and LGBT Public Health, and John Pallot on Humanitarian Aid. The intercalating medical students on the BSc Global Health formed the largest contingent of HCRI students with 11 of our students delivering presentations- most of which were based on their HCRI Dissertations. It was a great opportunity to catch up with past and present students and also interview them informally about why they chose to study the intercalated BSc at HCRI.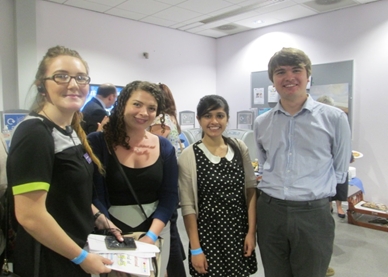 Julia Miah (pictured 3rd from left) presented her work on barriers to accessing contraception among young Bangladeshis in Tower Hamlets, London. When asked what she most enjoyed about the BSc course, Julia said that the most interesting thing for me is how different it is to medicine it's a completely different way of thinking, you're learning very differently- it covers a lot of stuff that we don't learn in in medicine finding out about other health systems for example. Rosie Conroy, Amy Smith, Iain Murphy (also in the group picture), presented their dissertation research on exclusive breastfeeding in the UK, Gender-based violence in Colombia and Celebrity Humanitarian Aid respectively.
This diversity of fascinating topics covered by our students continued throughout the day as the photos below illustrate:
When asked about her reasons for studying the intercalated BSc, Katie explained, I didn't really know what global health was before I started. I had a vague idea and was interested in maybe doing humanitarian work and so I wanted to find out more about it. Also, medicine is very science-based, clinical-based- we don't really do much essay writing or presenting and I wanted to develop those skills as well. When asked what she found most interesting about the course, she said, to be honest I found it all so interesting. I really liked the War, Migration and Health module, particularly as I'm interested in humanitarian work but also how it affects the UK- so talking about migration to the UK, asylum seekers and refugees and people coming from different cultures. Also, Medical Anthropology- I really enjoyed that- for example learning how culture affects health beliefs and how that can affect compliance to treatment". She concluded, if you are interested in working abroad, doing anything like humanitarian work, you learn a lot more about the skills that you needs to have – being able to be adaptable to those sorts of situations.
Tasneem had quite different reasons for wanting to study at HCRI. She explained, I chose Global Health because I'd just finished fourth year and I wasn't ready to be a doctor, and I wanted a bit of time out doing something very different to reignite my interest in medicine, and I couldn't have chosen a better course. It's so interesting, it's very relevant to everyday life, you're suddenly able to have conversations you would have been a bit naive to, you're aware of things going on around you I feel like I grew up a lot that year. It's also reignited a passion for socialist frameworks, structural violence. I definitely advise doing it- great for confidence, presentation skills, working with new people, and essay skills. Similarly Andrew and Richard mentioned the usefulness of the course in helping them develop essay writing and presentation skills. Andrew said that while medicine does provide some opportunities for developing these skills, to have the chance to do essays again and again and again and again [he laughs] and getting a little better each time is really useful, especially as doctors publishing articles it's an extremely useful skill to have.
Like Katie, Andrew chose the course because he has an interest in working in the humanitarian sector but also because "generally I wanted to expand my knowledge of medicine and disease in non-Western contexts. He went on to say, the most valuable thing I have learned is the importance of cultural differences and the role that culture plays in health perceptions and disease perceptions.
Richard chose the course because he felt it would enhance his desired career choice as a public health specialist but with a global perspective. He aims to combine public health work in the UK with consultancy work overseas. Richard said that the Research Methodology course enabled him to expand his knowledge of research methods beyond purely medical, scientific approaches to incorporate different sociological perspectives and critical discourse analysis that he found really interesting and useful. Overall, he explained that as a result of studying at HCRI my whole perspective on the world has completely changed and I think I can apply that a lot when becoming a doctor.
Finally, congratulations to Neil Cockburn, another BSc global Health alumnus for his award of third place in the National Global Health Competition. Neil presented two papers: one based on his HCRI dissertation entitled Human Resources for Health: plugging the Ethiopian Brain Drain and another on his recent research into the role of Patient Participation Groups in improving GP Services. Neil explained his reasons for wanting to intercalate at HCRI: I have been interested in global health and global health inequality since the first year. It's something I've been following quite closely. I've actually been campaigning with various groups and I wanted to take that to an academic understanding: being able to critique the various campaigns that were coming forward. In terms of the course itself he said that one of the most useful things about it has been the Research Methodologies course which has actually allowed me to do various PEPs and certain student projects which I otherwise wouldn't have been able to do and present here today. And also, just the knowledge I've gained in that I have an understanding of what it means to be a doctor in a global health system. Neil went on to say that most of the modules are what you would expect of global health- where you're learning about global health systems, how people interact, who the big players are, diseases in developing countries. Again, it's what you'd expect to learn about but the two surprising modules that I hadn't realised would be so useful were Research Methodologies and Medical Anthropology which, again, opens up another way of looking at global health there are many ways of understanding medicine and society.
From my own point of view and as part of the HCRI team, it was great to hear this appreciation by our students of the worth of our inter-disciplinary approach to teaching, learning and research.
Once again, congratulations to all our students, past and present, who work so hard and produce work of such quality and diversity!
If you would like to learn more about the intercalated BSc or any of our other undergraduate and postgraduate courses please see our webpages:
I leave you with photos of 3 other excellent presentations from the Festival that were based on dissertation research conducted at HCRI.
Looking forward to next year!
Regards, Maura Duffy, iBSc Programme Director