World Health Organisation Emergency Medical Teams project in partnership with Hong Kong Academy of Medicine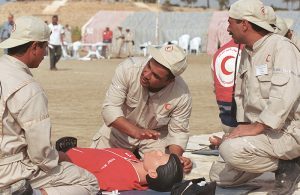 HCRI is launching a project in collaboration with Hong Kong Academy of Medicine based around the World Health Organisation (WHO) Emergency Medical Teams (EMTs) Initiative. The collaboration will accelerate the development of an international accreditation and certification process of disaster response training based on WHO standards with a focus on China and Asia.
Professor Tony Redmond OBE, HCRI Deputy Director, will lead the collaboration. He also leads UK-Med, an NGO based at HCRI that hosts the UK International Emergency Trauma Register (UKIETR) and UK International Emergency Medical Register (UKIEMR), and recruits and trains health care workers to deploy to sudden onset disasters overseas. Professor Redmond has a track record working in China, and delivered EMT training there in September.
As part of this project, HCRI is recruiting for three roles: Academic Curriculum Director, Research Associate, and Project Assistant.
Academic Curriculum Director (Closing date: 23 November 2016)
The role of the Academic Curriculum Director will be to lead the development of a training curriculum for Emergency Medical Teams (EMTs) with reference to the WHO Global EMT initiative, classification and standards. The Academic Curriculum Director will coordinate the provision of training programmes in Asian countries to the required standards of the WHO Global EMT initiative and classification system.
Find out more and apply
Research Associate (Closing date: 25 November 2016)
The role of the Research Associate will be: to provide research and publication capacity (programme manuals and guidelines, and international peer review journals) to support the development of a training curriculum for Emergency Medical Teams (EMTs) with reference to the WHO Global EMT initiative, classification and standards; and to disseminate the findings from the project.
Find out more and apply