Celebrating the International Year of the Nurse and Midwife 2020: Meet Gloria
We interviewed Gloria, a Global Health MSc alumni, about her career and what it was like to transition from nursing to midwifery.
Gloria Ling Lee, a registered nurse (RN) and midwife (RM) from Hong Kong, volunteered in the 2015 Nepal Earthquake with the International Federation of the Red Cross and Red Crescent Societies (IFRC) before qualifying as a midwife.
What did you enjoy most about the MSc in Global Health at the University of Manchester?

The Global Health MSc was recommended to me by the International Federation of Red Cross and Red Crescent Societies.  It is a well-organised programme that covers comprehensive topics such as disaster management, community health, health informatics and systems, and health needs in developing countries.  It's allowed me to explore the context of health from a broader view rather than focusing entirely on specific diseases in clinical settings.
Studying and discussing alongside peers from diverse cultural backgrounds broadens your global view, and has allowed me to understand different health perspectives and systems from various nations. I believe this is a critical skill to have for working in the humanitarian field, where you have a team of people from different countries and need to cooperate within a short time.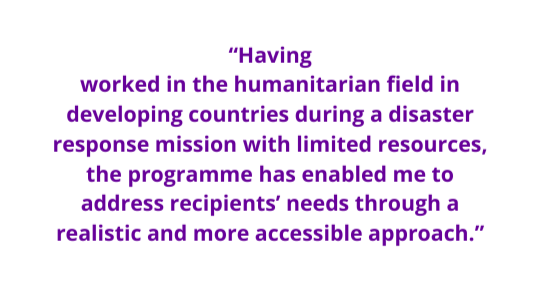 Can you tell me about your involvement with the WHO and wider initiatives?
In the 2015 Nepal earthquake, I was sent to a basic health care unit in Singati, Dolakha which was one of the epicentres of the earthquake. I was deployed as an intern by the International Federation of Red Cross and Red Crescent Societies (IFRC). I was then required to carry out research to evaluate the performance of emergency response unit deployment in Singati-  gathering data from the organisation, beneficiaries and staff.
Also, I attended and contributed to regular meetings in the districts with local NGOs, government, the WHO, Médecins Sans Frontières, Unicef and food banks. These meetings were held to prevent infectious diseases in sites, update progress of the rescue and relief work as well as prepare for the exit plans of international responses to the disaster.
What is it like being a humanitarian nurse and then midwife?
There are many similarities to general healthcare work in nursing and midwifery practice. For example, ethical practices and maintaining patient confidentiality, or beneficiaries we have encountered. Teamwork also plays an important role in fieldwork because maintaining the safety of the team is paramount in every decision we make. So in general, nursing and midwifery work are similar, but the context in which you work is different as you may practice in an unfamiliar work place in each mission.
What made you change from nursing to midwifery? And how did you make this change?
Working in the field with limited resources and staff shortages, we can encounter diverse groups of people with specific health needs like the India and Nepal earthquake mission I was deployed in.  It was this experience that encouraged me to enrol in midwifery training and become a midwife. To register as a midwife in Hong Kong, we must go through 18 months post-registered diploma training, with an exam on completion.
How has the Global Health MSc at HCRI and further training helped you in clinical practice?
It has allowed me to provide better primary and secondary prevention, such as preventing communicable and non-communicable diseases from harming patients.
I completed a postgraduate certificate course in infection control that has trained me to handle different kinds of infectious diseases, as well as being sensitive to prevent cross infection in daily practice.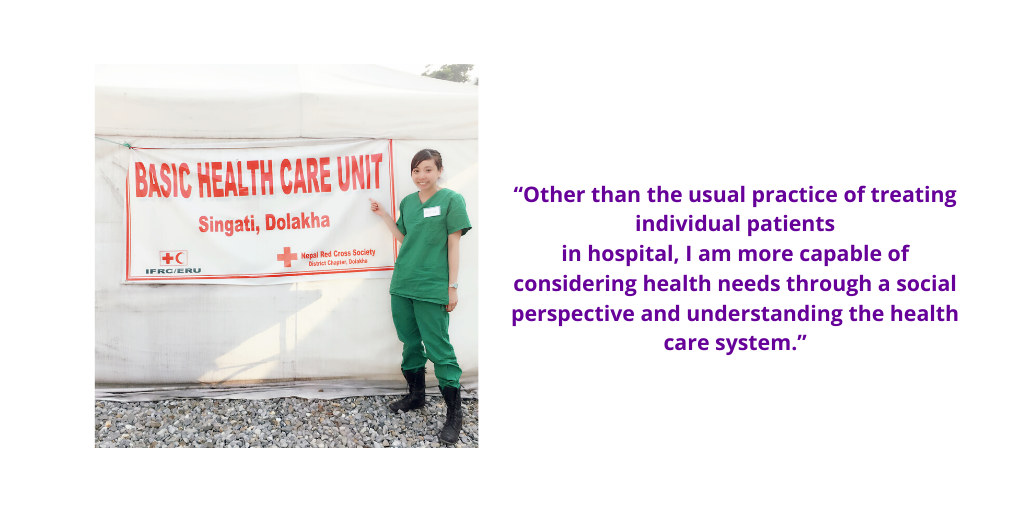 Do you have any advice to other nurses and midwives wanting to pursue humanitarian work?
I used to believe that it's critical to have in-depth knowledge, and clinical experience in different areas to be a competent humanitarian worker in the field. That's also one of the reasons why I continue to study and gain clinical experience in hospital in the years before I enrolled in humanitarian work. However, after I was deployed to the field, I realised that there are a number of helping hands in service training to help us work confidently and practice as we would in our daily clinical practice. So, if you are interested in humanitarian work, don't hesitate to apply for it.