Celebrating the International Year of the Nurse and Midwife 2020: Meet Kirsty
Kirsty Lowe is a midwife and Global Health MSc student. She shares how her experience of being deployed by UK-MED with the UK Emergency Medical Team to the Diphtheria outbreak in Bangladesh inspired her to study the course.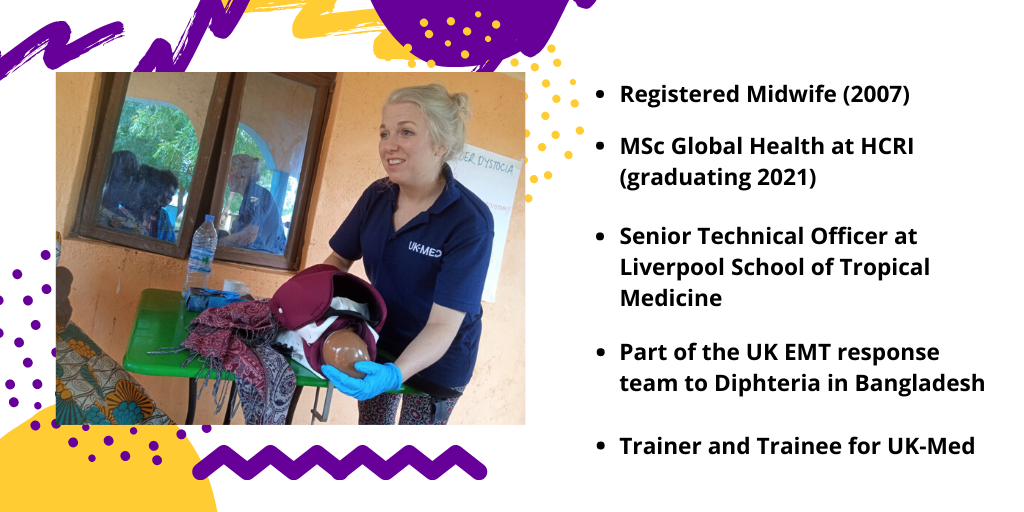 What course did you choose to study at the University of Manchester and why?

I chose to study Global Health at the Humanitarian and Conflict Response Institute (HCRI) as it is a leading global centre for the study of humanitarianism, conflict response, global health, international disaster management, and peacebuilding. The flexibility of an online MSc means that I can continue to work and study at the same time. The course is built to encourage a lot of engagement between students, whether they are Manchester-based like me, or field-based.
Are there any standout modules or areas of the course that particularly helped you in your career?

I particularly enjoy the focus on sexual and reproductive health. I have developed a keen interest in how women and girls living in humanitarian settings can be supported and empowered to realise their right to health, and how a health system needs to respond to the unique needs of this group of people.
I am used to practising maternal and newborn health, so the course has taken me out of this comfort zone, enabling me to learn about the breadth and diversity of global health. The disaster preparedness module has helped me to understand what is needed for effective, rapid response to sudden-onset disasters, but also how health-system strengthening can better equip countries to prepare and respond to emergencies.
 How did you first get involved in UK-Med?
I first heard about UK-Med through the Royal College of Midwives, and it was their history of humanitarian response and extensive training pathway that inspired me to join. I've been involved with UK-Med as a trainee and a trainer. The robust UK EMT training pathway equips healthcare professionals, usually NHS workers, to deploy and support patients, staff, and health systems during a disaster when their need is greatest. The deployments I have experienced were co-ordinated to allow a rapid response, which is vital to avoid mortality and morbidity during large-scale disasters.
What is it like being a midwife on deployment?

During the UK EMT response to Diphtheria in Bangladesh, I worked with the Diphtheria treatment centres and in the maternity clinics, which sat beside the treatment centres. I helped midwives who provided care for women during and after pregnancy. We worked together on simulation exercises to practice care during labour, emergency drills, and vital skills such as neonatal resuscitation. The midwives would tell me many of the babies would be born asphyxiated, which is a leading cause of newborn death globally.
Midwifery as a profession is new to Bangladesh, so the midwives working in the refugee camps were the first cohort of qualified midwives and were deployed to the camps for their first posting as autonomous practitioners. I learned a lot from the midwives I worked in Bangladesh and have enormous respect for the work that they do.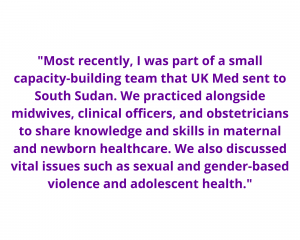 The diversity of deployments I have experienced with UK-Med and the UK EMT, for myself, highlights the uniqueness of these organisations. Typically, humanitarian and development sectors operate separately; however, UK Med and the UK EMT demonstrate how the humanitarian and development sectors can align, strengthening health systems to build resilience, so they can both prepare and respond to a disaster.
Do you have any advice to other midwives wanting to go into humanitarianism? 
Think about your reflective skills, as this is something that is needed daily. The ability to reflect on how you function in a new team, a new health system, and an unstable environment is vital for you to be able to adapt to what is needed and provide the most effective care. The opportunity to work in humanitarianism, for me, is an enormous privilege and intrinsic to the work I do. Although I have a set of skills and knowledge to share, my in-country colleagues come with a wealth of expertise, which together can form create a shared vision of healthcare, built upon partnership and mutual respect.