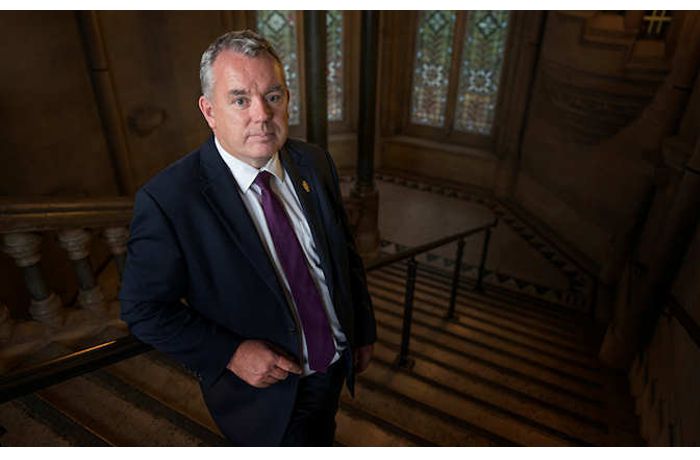 Patrick Hackett: All change?
When I'm out and about meeting staff I hear much debate about the why, what, when and how of change in our University. I wanted to share my thoughts on this often contentious topic – and hear your views too.
Early in 2020 we will launch our University's new vision and strategic plan – Our future. In order to fulfil Our future we need to ensure that we are in a financially sustainable position so that we have the funds to invest in the new staff, facilities and infrastructure which will be needed to bring our plans to life.
Our Financial Statements for 2018/19, which have been published following approval by the Board of Governors, confirm that more than 95% of our £1.1bn income is spent on our core goals – on our staff and our students – to deliver research, education and social responsibility; with the remainder invested in the long term sustainability of our University. You can find a summary of the Financial Statements on StaffNet.
However, this is a testing time for UK universities, due to the many external factors that have an impact on us – current home tuition fees are falling in real terms, whilst our costs (not just pay but non-pay too) are increasing. There are further and even greater tuition fee funding risks outlined in General Election manifestos as well as a range of Brexit-related risks that could affect our operations. The Office for Students (OfS) demands that we demonstrate both value for money for our students and our financial sustainability (in the sense of being able to invest to deliver our ambitious strategy, rather than survival). There are, of course, also ongoing unresolved national issues around pay and the continuing challenges around funding pensions in the higher education sector.
Our Financial Statements show an improved operating surplus (3.7% of income compared to £24.7m (2.3%) in 2017/18), with a rise in income from tuition fees, education contracts and research. As I mentioned earlier, we re-invest the surplus we achieve each year in activity in line with our strategy. Recently our funds have been used to create some new academic and Professional Services posts; to invest in key infrastructure including IT; to invest in some new buildings like our student accommodation at Unsworth Park; to improve the student experience by funding more full-time Residential Life staff and to upgrade a range of buildings and research and teaching spaces and resources. Increasingly it is also invested in environmental sustainability and meeting our ambitious carbon targets. So even when we are making difficult decisions in some parts of the University we continue to invest our surplus.
Whilst we have reported an operating surplus, our Board of Governors expects us to deliver a much larger surplus than this (at least 5%) if we are to be sustainable in the long-term.
Improving our financial performance will help to deliver our ambitious future plans, but we must also increase our capacity to create the funds and time to invest in our core goals. One of the ways we can do this is by changing what we do and how we do things.
Our strategic change programme (including IT Modernisation, the Student Experience Programme, and the Research Lifecycle Programme), alongside our continuous improvement plans, will ensure that we create the financial headroom to invest in people and facilities. The strategic change programme will also enable us to embrace new technologies and new ways of doing things that better support all our staff and students to be the best that they can be.
Yes, this means that some individual roles will change. New roles (some that we haven't yet identified) will be created and some roles will no longer be required. I appreciate that this will cause some uncertainty and where that is the case we will do everything we can to support staff, but the alternative is that we never change anything. If we fail to take advantage of advances in technology and develop more joined-up ways of working we will ultimately find ourselves outdated in the eyes of future students, funders and other stakeholders. Staff want to work for a progressive and successful institution, of which they can be proud. This means we cannot stand still.
When I talk to staff and students I often hear their frustrations about how difficult it be can be to get some straightforward things done, grappling with paper-based, manual and repetitive processes, on outdated systems and infrastructure, all of which serves to increase staff workloads. Everyone wants to do a good job, but regularly feel that our world-class status is earned in spite of our internal systems and processes, not because of them.
To deliver our new vision and strategic plan we will need to embrace new opportunities and face challenges with courage and determination. That will sometimes mean we have to make tough decisions and no-one is claiming it will be easy or that mistakes will not be made along the way. But where we do have tough choices to make we will commit to implementing changes fairly and with compassion to support the wellbeing of all our colleagues.