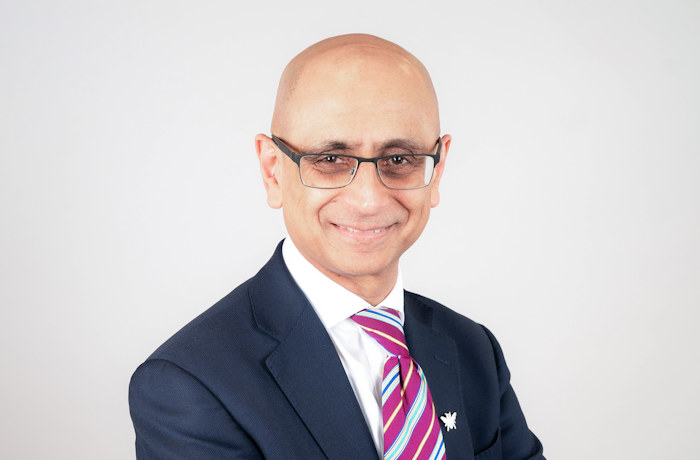 Nalin Thakkar: Decarbonising our investments
Vice-President for Social Responsibility Professor Nalin Thakkar discusses our University's response to the climate change challenge.
I took on the role of Vice-President for Social Responsibility because I passionately believe in the unique ability of universities to change the world for the better through their research, innovation, and teaching, and by creating future leaders.
We already do many things extremely well, as reflected in our University's ranking (1st in Europe and 3rd globally) in the Times Higher Education Impact table based on the United Nations Sustainable Development Goals.
But there are two challenges that we must address as a community that will characterise my tenure as Vice-President and where we can make a much greater impact: the environment and sustainability and equality, diversity and inclusion (EDI).
I will return to EDI in a future blog, but I want to say here that this is not an agenda that is about being kind or making allowances for people, although it is about fairness and equity. Rather, diversity will enhance the quality of our endeavours. If we want to excel as an organisation then we need to enable all our people, students and staff, irrespective of their background, gender, beliefs or other characteristics, to thrive and reach their full potential. When we fail to do this, we fail at all levels.
Tackling the climate crisis
Returning to the issue of environmental sustainability, the climate crisis is the most serious threat the planet faces today. All other issues that we worry about, and try to find solutions for – if I can pinch a line from Humphrey Bogart in Casablanca –'don't amount to a hill of beans' if we cannot tackle the climate crisis. Many of our staff and students rightly see the climate emergency as nothing less than an existential threat to our very civilization.
But as much as it is a challenge, it also represents an opportunity for universities like ours. The transition to a low carbon economy will require major research and innovation and an educated and skilled workforce. There will need to be significant changes to building stock, transportation, utilities and connectivity which will create new jobs and strengthen the economy.
Our University is uniquely placed to contribute to tackling the climate crisis through our core activities – research and teaching. We are already leading the way in a range of pioneering research programmes to advance sustainability including alternative sources of energy (hydrogen, bioenergy nuclear power, offshore wind power); smart energy systems; better batteries, new materials; more efficient manufacturing; improved waste management (to reduce methane emissions); and better land use. Similarly, we are strengthening teaching and learning in this area so that our students are environment and carbon literate, and well-placed to become responsible leaders of tomorrow.
But we also have to practice what we preach in our own operations. We have aligned ourselves with the City of Manchester's 2038 zero-carbon target and are working with our partners to find an optimum, cost-effective and affordable pathway towards a zero-carbon campus.
We will all need to change our individual and collective behaviours – switching appliances off when not needed, using technology instead of travelling, and where travelling is necessary using low-carbon transportation such as trains wherever possible.
Decarbonising our investments
We can also support the transition to a zero-carbon economy through the way our University invests its money. You may have seen the draft revised University Socially Responsible Investment Policy. It is important to appreciate that this policy has been revised specifically in response to the climate crisis, reflecting the concerns expressed by our students, staff, alumni and Board members. I would encourage you to give your feedback on this revised policy before Monday 23 March 2020.
Developed with the input of students and our own climate scientists, we are proposing to stop investing in companies that hold fossil fuel reserves and/or are involved in extraction.
However, these account for only 3-5% of our total investments. Furthermore, most CO2 emissions do not arise from the direct activity of fossil fuel companies; they arise through the use of fossil fuels by others. So we are proposing to shift our investments from carbon inefficient companies to carbon efficient companies, thereby reducing the carbon intensity of our overall portfolio. This is a much bolder step and goes significantly beyond what those committed to divestment were asking us to do.
In the first stage, by the end of 2022, we will shift 99% of our equity investments away from fossil fuel reserve and extraction companies, and reduce the carbon intensity of our wider equity portfolio by 30%. In the second stage, we will further reduce the overall intensity of our investments as more attractive portfolios of carbon efficient companies are marketed for investors. We have set a target of net zero by 2038 in alignment with the net zero target of the City, but we expect to progress faster.
Pioneering spirit
This investment stance is not an emotional response but it is absolutely aligned to our University's values. I am not naïve enough to think that our disinvestment will directly reduce carbon emissions since others will buy the shares we sell. But it sets a courageous example that I'm certain others will follow (we have already been asked to talk about this to other universities) and which has the potential to drive industries towards carbon efficiency and renewable energy.
This investment stance also takes account of risks of transition to a low-carbon economy. It is likely that in the next few years there will be a need for much higher carbon pricing and taxes which may significantly negatively impact on the value of fossil fuel companies. There are also potential advantages of being early movers into areas such as renewable energy. I hope you feel this is a sensible way to proceed, but whatever your views, please do take time to let us know through the consultation.
My work to-date with colleagues, students, Board members and external partners gives me a great deal of optimism that, together, we can approach this as an opportunity with a pioneering spirit. Even though the challenges are significant and shouldn't be underestimated, I am confident that our University can make a significant contribution to providing solutions for the climate crisis.
Nalin Thakkar, Vice-President for Social Responsibility
Further information:
Socially Responsible Investment Policy Consultation – FAQs