Failed Statebuilding by Professor Oliver Richmond now available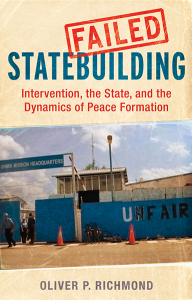 A new monograph from Professor of International Relations, Peace and Conflict Studies Oliver Richmond is now available.
In Failed Statebuilding: Intervention, the State and Dynamic Peace Formation, Professor Oliver Richmond examines why statebuilding has been so hard to achieve, and argues that a large part of the problem has been Westerners' failure to understand or engage with what local peoples actually want and need. He interrogates the liberal peacebuilding industry, asking what it assumes, what it is getting wrong, and how it could be more effective.