Heather's thoughts about the International Disaster Management and Humanitarian Response BSc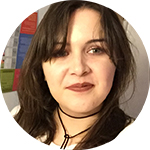 What did you study at college?
I studied A-Levels in Geography, Sociology and English Language.
Why did you choose International Disaster Management and Humanitarian Response rather than another course?
I chose this course because I wanted to study a course that was centred on the human side of geography but also brought in aspects of Sociology. I looked at several geography courses but none of them really looked that interesting or caught me – it tended to be a case of which one had the best trips included! But then one of the lecturers for this course came to my college to talk about studying it and it sounded brilliant and completely grabbed me.
What have you enjoyed the most so far about the course?
The aspect I've enjoyed most is the multi-faceted nature of the course – everyone has a different view/understanding so when we come together it can be so interesting.
What are your plans for after you graduate?
After I graduate, I'm thinking about going into teaching geography but my diamond goal is to be working for the UN or at least doing something in the humanitarian sector.
Is there anything you would like to say to anyone applying to this course?
If I could say something to anyone wanting to do this course or is just thinking about this course I would say don't be intimidated by the huge title but more importantly, don't be intimidated by what it means – if it interests you then go for it.
As a student with depression, dyspraxia (a learning difficulty) and a hand tremor, I was terrified in the summer and was convinced that I was going to fall behind and be the 'stupid' one but with my support plan (created by DASS – the Disability Advisory Support Service) I'm now achieving the best grades I think I've ever had! The lecturers are so lovely and they just want you to do well and I don't think you can ask for better really.
If you are a student applying to university in general and have learning difficulties, that doesn't mean that you can't do well – it just means that you learn in a non-traditional way so don't let that put you off because you are just as brilliant as everyone else.