Ting's thoughts about the International Disaster Management and Humanitarian Response BSc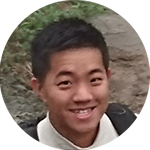 What did you study at college?
I took a different path, not taking A-levels or the International Baccalaureate. I was in an institute more attuned to producing workforce-ready young adults back in Singapore, so I was taught more practical skills in business management and engineering therefore totally unrelated to the degree. As such, it is not really about what you study in college, but more about how you interpret real world events, your interest and the drive and motivation you have.
Why did you choose International Disaster Management and Humanitarian Response (IDMHR) rather than another course?
In Singapore, there is a mandatory military service for two years before we can pursue our higher education at university. My experience in the military stirred me to pursue a degree in maritime law, but when I chanced upon IDMHR, I knew it was the course for me. I always think of how as individuals we can contribute more instead of just volunteering for programmes, not that it is not good, but on how we can raise awareness and make it sort of a human thing that everyone should participate in because we are humans, and as a humans it is in our nature to help when we see someone in need. IDMHR would serve that purpose to first provide the knowledge, and from there I would be able to act on that knowledge. Hence, I chose this course.
What have you enjoyed the most so far about the course?
So far, I have enjoyed every part of the course. It has opened up my world to how different actors work or stop progress in IDMHR. I really enjoy how many resources are readily available to let us explore areas that we are interested in. I never knew that there could be so many different meanings to the word 'vulnerability'. As the course is interdisciplinary, we have lecturers from a wide range of research backgrounds who will shape how we will think about and look at things.
What are your plans for after you graduate?
I am currently under a scholarship with the Republic of Singapore Navy, so I have a job. I would say that I am looking to understand the area of military humanitarianism, and look at the possible application with the Navy. Another area that I might be interested in would be raising awareness in a bigger role for Singapore in disaster risk reduction in Southeast Asia.
Is there anything you would like to say to anyone applying to this course?
Take a gap year or two. It might sound like a difficult task to get out of study and then get back in again. It is not easy, but the experiences you get during the gap year would certainly shape how you view the world and broaden your horizons.
Stay up-to-date with current events; keep reading not just from media sources, but also from opinion forums.
For your UCAS personal statement, as the course is very specific, you can write another personal statement, specific to this course, and send it to HCRI. This way you can also write a general UCAS personal statement for other university degrees.
If you love United (or unfortunately City) you should come to Manchester. It's a perk to have cheap tickets to United and City matches.