A small but vigorous cottage industry has grown up around the instrumentalisation of humanitarian aid. It sustains both researchers and journalists. Perhaps the most pointed in the latter category is the Dutch writer Linda Polman, whose book denounced the use of aid by warmongers, the corrupt, and génocidaires, and the powerlessness of relief workers to prevent it.1 We need not look far beyond the title of the 2012 documentary, The Trouble with Aid, to know that its approach dovetails with Polman's view.2 As one op-ed put it, without needing to explain, 'Diverting humanitarian aid is despicable.'3 And while, as in that piece, the current emphasis on terrorist organisations can intensify the emotional impact, neither the accusation itself nor the delegitimisation of those subject to it are terribly new.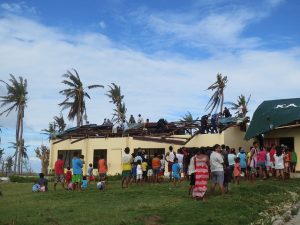 These critiques find unhappy allies in the frustration of analysts associated with the humanitarian sector – independent evaluators, researchers based in think-tanks or non-governmental organisations, those who have split their careers between practice and academia. Fiona Terry's canonical Condemned to Repeat? (note the question mark), published in 2002, offered detail and incisive empirical studies of several contexts where humanitarian aid served purposes other than those for which it was intended.4 It was more recently joined by a series of contributions, from case studies to historical reflections, in a volume edited by Antonio Donini.5 Hugo Slim has approached these questions through the lens of ethical decision-making.6
Rounding out these discussions are the contributions of academic researchers less evidently linked to the humanitarian sector – though of course many careers are hybrid and influences mutual. A significant body of research in this field relates to situations involving forced displacement. The notion of 'refugee-warrior communities' – highly conscious, organised, militarily active – derives from the classic text Escape from Violence, drawing attention to the political life of people whom aid agencies too often consider and portray as universal victims.7The genocide in Rwanda and its aftermath occupy a significant place in this literature, and in other attempts to capture the challenges of ethical decision-making – and, indeed, was crucial in the coalescing of debates about the manipulation of aid.8
Extract taken from her personal blog. Continue reading..