University of Manchester takes lead on new standard for disaster volunteers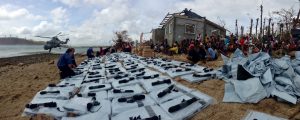 Charities, businesses and community groups across the world will be able to streamline and improve their response to emergencies and disasters, thanks to a new International Standard initiated at the University of Manchester.
The standard, developed by an international team led by Duncan Shaw, Professor of Operations and Critical Systems, provides guidelines on how groups can make best use of the enthusiastic volunteers who jump to the assistance of emergency services, in the event of disasters such as flooding, hurricanes or man-made catastrophes.
The ISO 22319:2017 standard was based on research conducted at the University of Manchester for the UK government led by Professor Shaw and involving Dr Chris Smith, Lecturer in Operations and Critical Systems. The international group of experts further developed the work for International Organisation for Standardisation which has been officially adopted by the British Standards Institute.
Professor Duncan Shaw, Humanitarian and Conflict Response Institute says that the standard provides organisations and services with crucial guidance which could make the difference in the event of a major emergency. He said: "Spontaneous volunteers following a catastrophe can make a huge difference in terms of relief efforts and support for those affected. However, that response can be made even better if organisations on the scene understand the best practices which make the most of the volunteer force.
"In recent times, we've seen incredible volunteer support turn out for catastrophes, whether it's widespread flooding in the UK, tsunamis and nuclear disaster in Japan, or hurricanes across the United States. This new standard will make sure we're better prepared than ever for the unforeseen events that can have untold impact on communities."
There are six key areas which the standard covers:
Understanding of spontaneous volunteers and their benefits
Fundamentals of volunteer management
Risks associated with management of volunteers
Planning and implementation guidelines
Communication strategies
Assessment of the impact of volunteers and their engagement in the longer term
More information on the ISO 22319:2017 standard can be found on the International Organisation for Standardisation's website.