HCRI 10 Year Anniversary and PhD Symposium
This blog was written by Megan Turner, HCRI Communications and Administrative Assistant.
May 2018 was a special month for HCRI, most notably for the launch of our 10 Year Anniversary. To celebrate a decade of HCRI, this year will see a large programme of events that highlight HCRI's journey, achievements and future ambitions.
The anniversary launch event took place at the Royal Northern College of Music on Wednesday 16th May. This consisted of a drinks reception, followed by a film screening of PILI. PILI is a ground-breaking collaboration between the filmmakers and the women of Miono, Tanzania, whose real stories the film is based upon and who make up the ensemble cast of non-actors, 65% of whom are HIV positive. PILI is the first ever social-realist feature film to focus on women living with HIV in East Africa. It is one of the few films made in Africa that features an ensemble female cast and that uses almost entirely non-actors.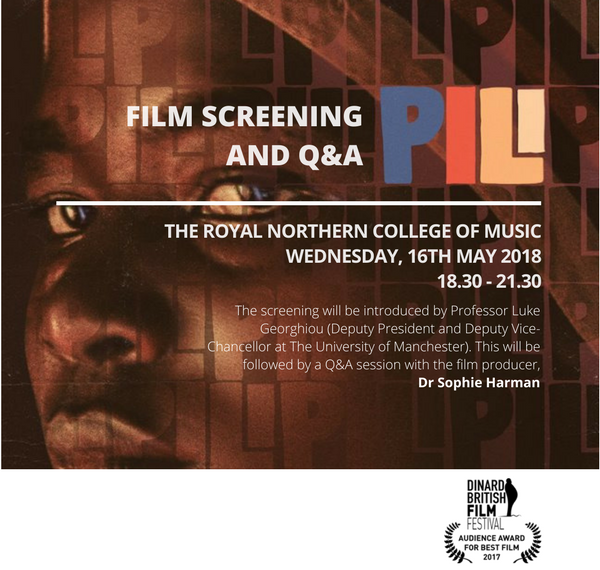 The screening was introduced by Professor Luke Georghiou, Deputy President and Deputy Vice-Chancellor at The University of Manchester. It was then followed by a Q&A with the film's producer, Dr Sophie Harman. Sophie gave us an insight into how they merged many real stories to create the script, what it was like to make the film with non-actors, and the taboos surrounding HIV in Tanzania.
This was a wonderful event that brought together our staff, students, alumni, partners and friends. For HCRI's upcoming events, have a look at our events page.
Following the anniversary launch, HCRI held Symposium for our PhD students on May 22nd. This event showcased the research of our PhD students and encouraged lively debate and discussion around each other's work. It was great to see such positive engagement.
PhD student Louise Tomkow said:
'Sometimes, working in a multidisciplinary institute can leave you thinking: Do I fit in here? Does anyone really get where I'm coming from or what I am trying to do? Tuesday's symposium provided the answers to these indulgent existential questions that only PhD students have the time to ask: yes, and yes.
Although the research presented was geographically, temporally and methodologically diverse, as well as being in various stages of completion, several commonalities emerged. First was how individual researchers brought their own unique skill set and enthusiasm to their work; although students' backgrounds are wide-ranging, the enthusiasm is pervasive. Second were some of the broad conceptual themes which cut across research projects, such as positionality and power. Lastly, most importantly, and at the risk of sounding nauseatingly sentimental, it was the shared values which struck me the most. Despite being critically engaged, all the work presented had the potential for real-world impact, and seemed to be underpinned by ideas of equity and a desire to improve conditions for the most vulnerable. Consequently, I feel privileged to be part of the academic community at the HCRI.'
To find out more about HCRI's 10 Year Anniversary, please see our webpage, and take a look at upcoming events here.