WAST PEER Research Project Graduation
This blog has been published by Sarah Lagot, one of our postgraduate students. The blog discusses No Recourse! Project Launch and Graduation which took place earlier this month.
On 5th December 2018, the inaugural cohort of 10 researchers from the WAST PEER Research Project graduated in a colourful ceremony held at The University of Manchester. This was the culmination of nearly two years of community engagement and research partnership started in May 2017 by Dr Jenna Murray de López and Dr Rubina Jasani with the grassroots organisation Women Asylum Seekers Together (WAST Manchester). WAST Manchester is a registered charity run by and for female asylum seekers who act to raise awareness of issues affecting destitute migrants in the UK through campaigning and public speaking.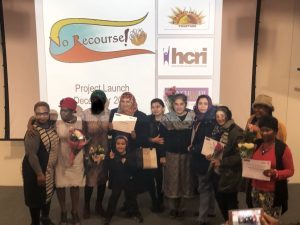 In January 2018 a peer research group made up of 20 WAST members was formed. Throughout the course of the year, the group attended the University regularly to complete a programme of research training. The training that the women received was devised by Dr Murray de López and Dr Jasani, drawing from their anthropological expertise working in health and community activism in Latin America, India and the UK. From the initial group, 10 women successfully completed the program.
WAST founder and activist, Farhat Khan reiterated how proud she was of the graduating class. In her key note speech, she chronicled her asylum journey. She endured years of violent domestic abuse in Pakistan and fled to the UK in search of refuge. In the UK, she withstood a seven-year asylum battle with the Home Office until her anti-deportation campaign yielded results. Farhat and her children were granted refugee status in 2008. She encouraged the WAST graduates to remain resilient.
The graduates, who were visibly overcome with emotion, could not sing enough praises for the program. Dudu Mango said; "This project has changed my life. I am so happy. I have suffered depression but I am now getting out of my shell. Through the training, I have learned to speak up in public. I have also shared experiences with other women dealing with mental health challenges."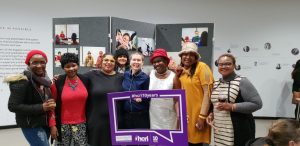 Rudo Mwoyoweshumba added; "I feel humbled to be given this opportunity. Not many people outside there want to know about us. It is an honour to know there are people out there who appreciate us and feel the pain we are going through. Many people look down on us and call us names. I suffer from Post-Traumatic Stress Disorder. Besides the learning aspect, this project has helped me fit within a community."
The WAST PEER Research Project has also been a launch pad of professional pursuits for some of the women. Mariam Yusuf was accepted into a Foundation course that will eventually pave the way for her to pursue a degree in Psychology.
In closing the event, Dr Jenna Murray de López and Dr Rubina Jasani officially launched the No Recourse! Project, a new home where future partnership work can come together and be disseminated to public audiences. The project prioritises a Peer Ethnographic Evaluation Research (PEER) approach to defining and addressing the core issues that impact on the lives of destitute female asylum seekers in the UK. This is the first time the PEER approach has been used with a view to creating a sustainable and equitable community research programme.
Look out for the No Recourse! website in early 2019 and also follow up on twitter @NoRecourse! to keep up to date with the peer researcher's next steps in visual data collection and WAST campaigning activity.