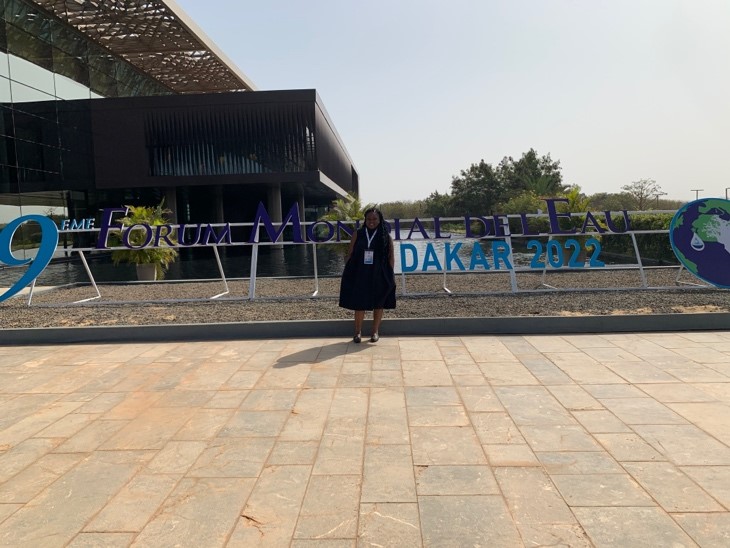 Water for Peace and Development: SCI PhD student at World Water Forum in Dakar
The 9th World Water Forum (WWF) took place from 22-27 March 2022 in Dakar, Senegal—the first time the conference has been held in sub-Saharan Africa. WWF is held every three years in different cities and is recognised as the world's largest multidisciplinary conference on water. With the support of the Sustainable Consumption Institute (SCI) at the University of Manchester, I had the opportunity to attend the conference with colleagues from the Global Water Alliance—and students from my alma mater, the University of Pennsylvania.
The World Water Forum was created by the World Water Council – an international organisation focused on influencing decision-makers to prioritise water for "sustainable and equitable development on the planet." The theme of the 9th Forum was "Water for Peace and Development", which coincidently aligns with my PhD research on the gender-water-peace nexus in conflict-affected situations. My research focuses on understanding the implications of water insecurity and peace from a gendered perspective in the context of Liberia.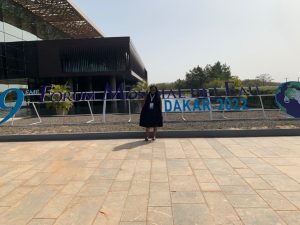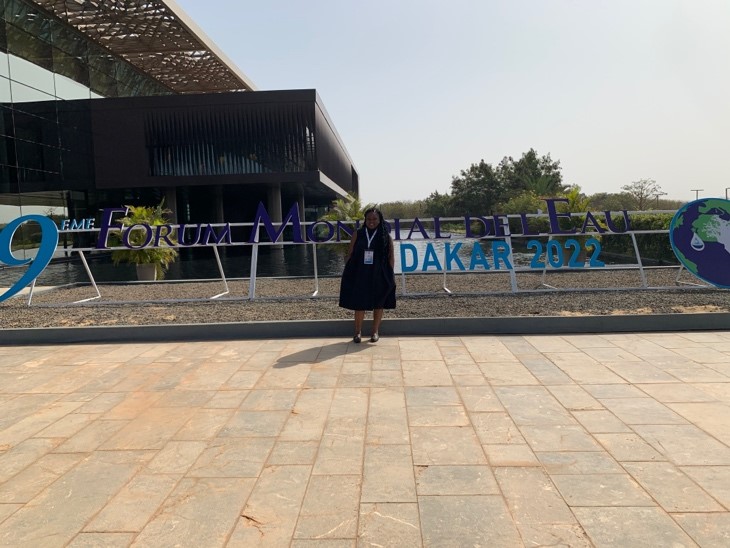 Liberia's modern statehood developed as part of an 18th-century experiment to resettle Black people from the United States to the West African region inhabited by people free of European colonial rule. Liberia is the birthplace of both my parents and is where I once lived before my childhood was uprooted by the civil war beginning in 1989. The 14-year intermittent wars would come to an end in 2003 with the help of Liberian women's radical approach to peacebuilding. Like many countries in post-conflict recovery, the water challenges are immense, and women are disproportionately affected. This raises greater concerns for Liberia because water insecurity in post-conflict settings can act as a risk multiplier that may compromise peace. I believe gender plays an important role in Liberia's ability to rehabilitate improved water services. My work examines the challenges of gendered water access and how Liberian feminist intervention for peace can be applied to solving the country's water problems.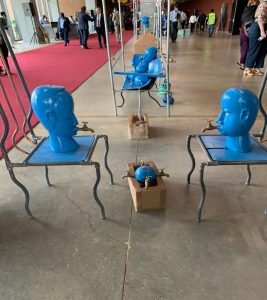 Conference participants had the experience of travelling the city's new state-of-the-art Regional Express Train which links the city centre, the airport, and the Forum location of Abdou Diouf International Conference Center in Diamniadio (CICAD). CICAD is a beautiful architectural complex of 20,000 square meters and played host to multiple plenary sessions and outdoor exhibitions.
While French is the official language in Senegal because of the country's colonial ties to France, many people speak other local languages with Wolof mainly spoken in Dakar. Throughout the conference, I was impressed to find all the sessions provided translation devices covering various languages including English, Arabic, Spanish, Wolof, etc. I have attended many international conferences where the working language is only English. Having multiple language translations certainly made it more accessible for wider audiences to discuss the important global issue on water.
There were four conference priorities: (1) Water Security and Sanitation, (2) Water for Rural Development (3) Cooperation, and (4) Means and Tools including the crucial issues of financing, governance, knowledge management and innovation. A mix of high-level panels, regional, and localised discussions unpacked each priority. Many of the sessions I attended emphasised the need for effective multi-sectoral and multi-stakeholder cooperation to address regional and global water challenges. Additionally, there was a consensus that collaboration in water management can create opportunities for peacebuilding.
One emerging theme that resonated with me and aligns with my research is water diplomacy—an approach that uses water resources as a tool of engagement for the broader goal of peace and stability and advocates women's leadership for better water management. Since women are most impacted by water problems, there must be a path forward for women's leadership in high-level decision-making processes on water and peace. The conference discussions reinforced my research design which seeks to contribute to the solution of practical water problems in Liberia and elsewhere. For example, my findings will be applied to develop technical reports for organisations working at the intersection of water, gender, and peace, write a water-themed children's book to educate youth and increase understanding to foster community-led solutions.
Overall, I had a fantastic time networking with multi-actors invested in global water issues. It was amazing to be a part of this historic event that will hopefully strengthen advocacy and action to accelerate universal access to water and sanitation worldwide.
About the author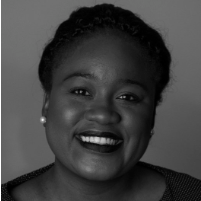 Chantal V. Bright is a first-year PhD candidate in Human Geography. Her research is entitled "Water Security, Peace and Fragility in Liberia: An African Ecofeminist Approach" and is supervised by Dr Alison Browne (primary), Dr Jonathan Huck and Dr Laura Mcleod. She is a first-generation Liberian American. Due to the civil wars in Liberia, her family sought refuge in the United States where she grew up in Philadelphia, Pennsylvania. She has seven years' experience working in rule of law in Washington, DC. In 2013, she moved to London where she has worked in legal services and academia as a researcher. In 2017, she published the children's book Janjay–on clean water sanitation set in Liberia, which captured the attention of the U.S. State Department-Africa Regional Services Nouveaux Horizons. Chantal holds a master's degree in Environmental Management from the University of Pennsylvania and a bachelor's degree in English and Political Science (dual course) from Seton Hall University.