Recognising the power of academic advising and diversity in the curriculum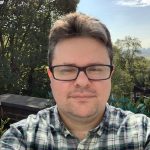 Dr Doron Cohen is a Senior Lecturer in the Division of Psychology and Mental Health (School of Health Sciences, FBMH). In the words of one of his students, "He is the Widening Participation Lead for Psychology and is totally committed to ensuring that irrespective of a student's ethnic or religious background or sexual orientation they can enter university and feel safe and secure once they are here." In this post, he talks about winning two UMSU Education Awards 2021, what the students appreciated in his approaches, and what it means to him.
What are the UMSU Education Awards?
The Education Awards are Student Union-led awards that are made annually in response to an open call to students across the entire university. Nominations are made in the relevant category (such as the 'Above and Beyond') via an online proforma. UMSU received over 350 nominations across the suite of Education Award categories. The categories change over time depending on student priorities. This year, the categories were:  
Exceptional Feedback
Excellent Support Staff 
Outstanding PGR Supervision
Diversity in the Curriculum
Inclusive Teaching Practice
Excellent Academic Advising
Innovative Teaching
Commitment to Student Partnership
Above and Beyond
Outstanding Graduate Teaching Assistant
Award winners are picked by a panel of students independently based purely on the strength of written nominations. 
This year you won TWO awards!  
Yes, I am very lucky to do well at these awards. Over the years I have picked up a few, including Innovative Teacher of the Year, Best Lecturer, 21st Century Curriculum Creator and Supervisor of the Year. This year I won awards for 'Diversity in the Curriculum' and for 'Excellent Academic Advising'.  
Firstly, can you tell us a bit about your course?  Was diversity – in content or in delivery – inherent from the start or is it something you thought about introducing retrospectively, through a particular lens? 
I teach Social Psychology to a large year 1 cohort of around 400 students. In looking at interpersonal relationships and the social self I've chosen to focus on themes like racism, discrimination, LBGTQ+ rights, mental health and stigma, and I have made it more diverse over the years. I think students have grown much more aware about the social and political world in which we live over the last five years, especially since Brexit, and they used my course as an example to say, "(we want) more of this sort of thing".  
Our students themselves are very diverse – they come from all over the world with different cultural, religious and linguistic backgrounds. Whereas psychology, like much of academia, is born out of a very western, white, male-dominated tradition and research is typically conducted on western undergraduate students. As such, it just doesn't reflect the diversity of the world around us. There are so many fascinating cultural differences in the way that the world is perceived by different groups, and that's one of the things that I want to capture. 
We explore implicit bias, as one example – we still live in a world where your name has a massive or a significant impact on labour market access. Your social group will, to some extent, determine the quality of housing you live in, or the amount of money you'll earn over your lifetime, the degree you'll get or even the type of university you attend. I am very proud to work at Manchester with its Widening Participation framework and having Social Responsibility as a key goal. And so I tried to align the content of the course with the university's strategic goal as well, and just really be very explicit about tackling these issues. I've always tried to develop students' critical thinking skills by dismantling headlines and encouraging students to take a scientific, critical perspective to assessing the evidence for every claim they read. I think  this is particularly important for claims made about minoritized or underrepresented groups. I begin by asking 'What do we know? And then what can we do about it?' – trying to encourage positive action.  
In one lecture I talk about social isolation and how, for elderly people in particular, this has real consequences for their cognitive and physical health, and then I flash up information on befriending charities, and quite a lot of students have been motivated to become a telephone friend to an elderly person. 
And students value your approach to advising – what can you tell us about your approach that makes it stand out? 
I'm a teaching-focused lecturer and passionate about giving our students the best experience at Manchester. They can feel anonymous, and I am very aware that I am a conduit to 'Manchester University' for them – I try to help them feel genuinely valued and create opportunities for them to come to me. Trivial things matter – if they tell me they've got a pet I will make a note of it and remember. You have to take steps to build a relationship with them. After all, at first you are just two strangers put together in a slightly odd context – academic advisor and student. I will be nosey and if I notice they seem out of sorts I'll mention it and ask if they're okay. It's not about me solving their problems but working with them. I try to send them emails and have an open-door policy, but I'm also open about lead-times for non-urgent things. I am their advisor not just in the 15 minutes allocated, but throughout the year and around the campus.  
What does it mean to you to be nominated by students? 
It's an honour! There are so many gifted and talented educators here – to be nominated is enough, to win makes me feel proud and it's so good to know that the students are resonating with the course and my approach.  
This year the awards ceremony took place online. You can watch  video footage of the ceremony, with all the nominees and appearances from the award-winners, on the UMSU Facebook page.