What's it like to be a Student Partner?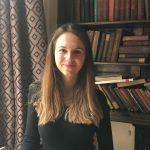 Sanja Karilanova is a Student Partner Intern (SPI) and has been part of our Online Blended Learning (OBL) cohort this year.  Over the 2020/21 academic year this cohort of SPIs have worked in partnership with staff, undertaking activities such as reviewing academic content and supporting transcription and subtitling projects across the University.
What is a Student Partner? 
I have been working as a Student Partner for three months now.  The title of the role is quite vague, so whenever I tell my friends about it, they always ask me what it means and what I am actually doing. Student Partners within different Faculties have different responsibilities, depending on the needs of the departments within that Faculty.  I am a Student Partner within the Faculty of Science and Engineering, and my main responsibility is to review lectures or seminars and provide feedback, which would be the short answer I would always give to my friends.  Some of them would be happy with that answer, but the curious ones would go even further, asking me: Well how do you do that?  Do you work alone?  What do you gain out of it?  In the rest of this post I will answer those questions.
Firstly, how do I review lectures/seminars?
I put myself in the shoes of the students who would listen to the lecture.  I take a blank piece of paper and split it in half with a line.  While listening to the lecture, on one side of the paper I write a list of things that stood out and impressed me while on the other side I write a list of things that I think could be improved.  At the end of the lecture/seminar, once I have my lists, I begin composing an email to the lecturer who gave that lecture.  In the email I don't just copy and paste the lists, but I also write why I liked the things I liked, and why I think there's room for improvement as well as my suggestions on how to do that.  Of course, most of the time I don't really understand the material presented in the lectures/seminars because the lectures are from various courses within the FSE, but so far that has only helped me by making me even more objective.
Secondly, who do I work with?
At the beginning of my role I had a two-week long training programme where I met the other Student Partners.  We managed to create a very healthy and supporting atmosphere and were/are in constant contact via group-chats and Zoom meetings.  I also work with staff from the Student Partner Programme who are the people who make the connection between us, the Student Partners, and staff partners from the University.  Chloe Salins, who is a Student Engagement Graduate Officer, was actually the person who suggested this post and helped me write it.
What have I gained?
Throughout reviewing lectures and seminars from various courses, even though I was focused solely on the quality of the video, I did pick up some knowledge.  For example, when reviewing seminars on Disaster Management I learned that many disasters that I considered to be natural disasters are human-made disasters.  Hence, I did learn quite a few bits from various fields that helped me become a more rounded person.  Furthermore, by being in constant communication with many lecturers via emails and Zoom meetings, I managed to improve my networking skills and connect with them.  This also helped me realise how approachable lecturers are, and how happy they are to hear our thoughts.  This is something that, even after three years of studying at Manchester, it took me becoming a Student Partner to realise.
Conclusion
The global pandemic has definitely impacted every single aspect of our lives.  It has been very difficult year for both the students and the University.  The transition to blended learning was challenging for everyone.  Being a Student Partner does make me feel that I have made a small contribution towards making that transition easier.  I would like to encourage everyone to try and contribute too.  Even filling out the feedback surveys for modules can go a long way, and helps more than we think it does.
If you are interested in learning more about our Student Partner Internships, please see the Student Partners Programme pages.