Shaping teaching practice: Dr Nick Weise and PASS scheme students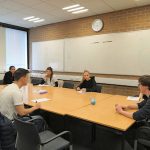 Following his success at the Students Union Education Awards in June, in which he won the SU Education Award for Commitment to Student Partnership, we caught up with Dr Nick Weise (SFHEA) to hear about his work with the Chemistry and Biological Sciences PASS schemes. We also got to hear from students Shauna Rogers, Dukula De Alwis Jayasinghe and Ieva Norvaišaitė, who offered their perspectives on being part of  PASS and on the scheme's capacity to transform the learning experience for students. 
Dr Nick Weise's wide teaching portfolio includes delivering Chemistry units to 1st year Bioscientists and 2nd year Chemistry students, and he has been Academic Coordinator for three separate Peer Support Schemes (Biological Sciences PASS, Chemistry PASS and Commuter Peer Mentoring). PASS – or Peer Assisted Study Sessions –are weekly academic support meetings for 1st year students led by trained higher year students with lived experience of making the transition to university. Nick is passionate about the transformative nature of involving learners – who are 'experts by experience' – in course design, thus bridging the gap between T&L practitioners and students through the co-creation of teaching materials.  
"When designing and reviewing any form of teaching what you ideally want is input from people who have experienced the learning you are trying to achieve and themselves know how to support the learning of others. PASS Leaders and Peer Mentors are invaluable in this regard. Not only are they students, but they are also higher education practitioners whose compulsory training includes the facilitation of learning, creating supportive environments and effective approaches to student guidance. As all areas of the university have at least one peer support scheme, I would recommend any member of teaching staff get in touch with their local PASS Leaders or Peer Mentors to involve them as partners in the education process. 
In my own work, I have asked them to review courses, create learning activities for use in lectures, design the 'perfect blended learning unit' and even assist me in the delivery of academic and researcher development workshops on teaching. For me, it is simply a question of who are the best-placed people to do what is needed, regardless of rank or student/staff status. By involving our students and drawing on their expertise and experiences on both sides of the teaching divide, we can integrate diverse student voices into our programmes and create inclusive, learner-centred curricula." 

Dr Nick Weise's model to illustrate the cross-cutting, collaborative nature of the PASS scheme, bridging the gap between teaching and learning practitioners and the 'experts by experience' – PASS Leaders. 
We asked PASS Leaders and Student Coordinators who have been part of the Biological Sciences and Chemistry PASS Schemes for their reflections on the experience of working with Nick on the co-creation of materials. 
Ieva Norvaišaitė has been both a PASS Leader and a Student Coordinator for the School of Biological Sciences Peer-Assisted Study Sessions (SBS PASS) Scheme.  
"I started sharing my resources for CHEM10021 and CHEM10022 when I became a PASS Leader in SBS in my 2nd year of study. Although SBS PASS already had a collection of problem sets (such as crosswords or MCQ questions) for chemistry units made by previous students, I felt that attendees of my PASS group wanted to solve more problems testing their understanding and application of concepts rather than the ability to memorise them. That is how I started creating exercises that guide students through the thinking process of solving a problem. I felt I was confident to do that due to my previous background in chemistry. One of the staff coordinators for SBS PASS, Nick Weise, spotted my interest and was keen on sharing materials via Blackboard. I was so pleased to see that he had used the problem sets I had created during workshops, and Nick also invited me to attend those workshops in a teaching assistant capacity. It felt great to know that my opinions about the teaching experience were valued and brought positive changes for future generations of learners. 
I went on to become a coordinator for SBS PASS, led the organisation of CHEM workshops and later collaborated with Nick to create more teaching resources for the CHEM10111 unit.  
While I believe that creating facilitative teaching materials from a student's viewpoint really benefited new students on the unit, it was also a great experience for the volunteers to reach the highest level of their understanding of the topic." 
Shauna Rogers AFHEA and Dukula De Alwis Jayasinghe AFHEA are experienced Leaders and Student Coordinators for the Chemistry Peer Assisted-Study Sessions Scheme (PASS); their work with Nick included creating materials for use in interactive lecture sessions from their position as course alumni, as part of his approach to flipped learning.  
"As PASS leaders in our second year, we got to know about Dr Nick Weise's project on developing workshop questions for his taught module with students. We felt that this was a great way to put some of our PASS experience into practice as we had already been preparing questions for our PASS attendees throughout the year. We personally felt, although it was slightly different to the questions we were preparing for PASS, it was a really good experience for us, and we were able to translate a broader scope of our knowledge into practice and develop our own case studies to develop the questions. As students, it aided our own critical thinking and understanding of Nick's material, and this helped us a lot in our third year – where we were required to consider material independently. Furthermore, partnering with Nick on this project helped support our LEAP AdvanceHE Associate Fellow applications immensely – inspiring us to continue working on such projects independently. With his guidance, and this experience, we were able to fully develop an online course for first year chemistry PASS which was well received by all first year students." 
To find out more about the Peer Support Programme, including how to get involved, head over to the Peer Support website.  You can also find out more about the SU Education Awards in our recent post from Doron Cohen.