Learn and Discover: Asia's Multi-Cultural Gem
Feeling a sense of wanderlust? The current pandemic that has swept the world by storm has caused many of us to be stuck at home, unable to go outside and see new sights. Yet, being confined does not necessarily stop you from learning new things; in fact, you can even benefit from discovering online before experiencing the real thing in the future. That is one of the ways to wellbeing that we aim to practise, as it is said that "the act of learning itself has been shown to improve our self-esteem and resilience." 
In this blog post, I will be giving a brief presentation (or a mini "e-tour") on the wonders of my home country. Situated in the heart of Southeast Asia, Malaysia consists of the peninsular West Malaysia and the Borneo-linked East Malaysia. The weather is constantly sunny and/or rainy since it is located near the equator, so it is a perfect destination for those who prefer a certain type of climate year-round. We also have 13 states and 3 federal territories, with a "federal constitutional elective monarchy" similar to the Westminster parliamentary system. Many Malaysians are also well-versed in English and other languages such as Chinese or Tamil, making travel easier for tourists or those unfamiliar with the national language, Bahasa Malaysia.
Culture
One of the country's characteristics that Malaysians are proud of is the multicultural and multilingual society. Our history played a part in this, such as when the British colonisers brought in labour workers from China and India, when the Arab traders came to barter for our spices, and when the states of Sabah and Sarawak in Borneo united with peninsular Malaya. Since then, Malaysians are familiar with the numerous cultures surrounding them other than their own. It is common for us to celebrate cultural and religious holidays together, such as Hari Raya Aidilfitri, Chinese New Year, Deepavali, and Gawai. Do not be confused if you see tanglung lanterns hanging around a Malay-run restaurant which serves roti canai; it is just part of our charm!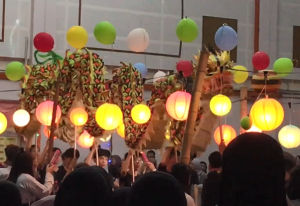 (Picture 1: A dragon dance performance at my college's Chinese New Year event.)                                 
Cuisine
Another thing to look forward to when visiting Malaysia is the food. Thanks to its multi-ethnic background, Malaysia is home to some of the best foods in the world. The culinary style presently found here is a mix of Malay, Chinese, Indian, Indonesian, Bornean, Thai, Portuguese, Dutch, Arabic, and British cuisines. This country can be considered a foodie's heaven, as every state has its own special dish. One must-go destination is the hawker stalls in Penang. Of course, many would say that our national dish is the famous nasi lemak, but I would encourage any visitor to try out other foods as well! My personal favourite is the laksa sarang burung, a variant of the sour noodle soup topped with an omelette that looks like a bird's nest.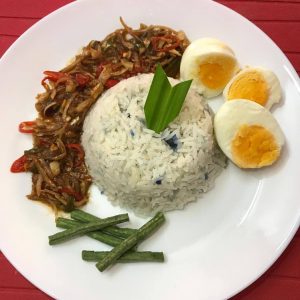 (Picture 2: A plate of homemade butterfly pea nasi lemak.)                                                           
Nature
Lastly, Malaysia is rich with biodiversity and rainforests. Our national flower is the hibiscus, or bunga raya, while our national animal is the Malayan tiger and the national bird the rhinoceros hornbill. There are huge rainforests here that are said to house around 20% of the world's animal species. Examples of wildlife include orangutans, rhinoceroses, tapirs, and elephants. Visitors are able to trek around some of these forests to enjoy the natural beauty. If you are lucky, you may even find a rafflesia flower, the largest flower in the world. If rainforests are not your forte, consider taking a trip to one of the many beautiful beaches. You can take a scenic boat ride, go snorkelling around corals and sea turtles, or just enjoy the sunset.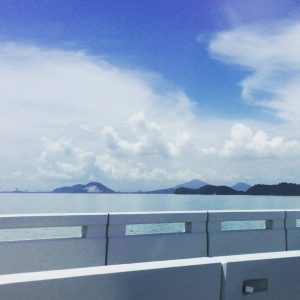 (Picture 3: A scenic view of the Penang Strait and islands during my trip to Penang Island.)
This is only a general guide to Malaysia and its fantastic attractions. Hopefully, you learned something new today with this blog post. If you do get the chance to visit this wonderful country, take a moment to enjoy a hot cup of teh tarik in a local kopitiam. Sometimes it is the small things that really bring out the experience. Remember to visit the Petronas Twin Towers in the capital city Kuala Lumpur as well, the tallest twin towers in the world.
Take a look at the virtual tours below featuring many of Malaysia's attractions, cultural and natural. Some even include audio explanation of the place's history. Check out Ipoh's Concubine Lane, for starters; hidden somewhere in this bustling alley is a "Harry Potter"-inspired café selling their take on "butterbeer!"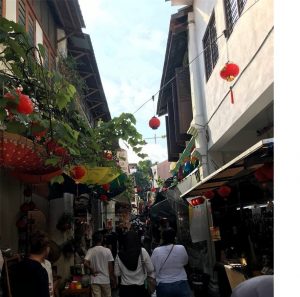 (Picture 4: A photo I took at Concubine Lane, featuring a busy alleyway with small stalls and shoplots.)        
Written by Elise Sofea Binti Edi Razman